Vietnam-UK relations developing at the best stage: diplomat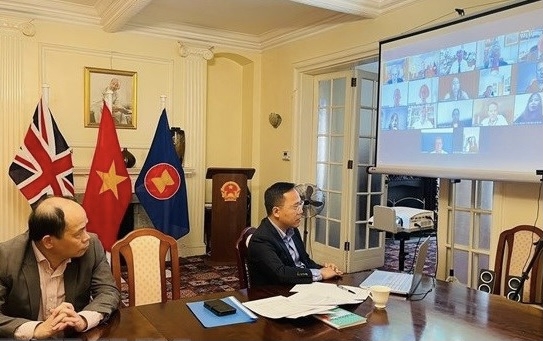 Vietnamese Ambassador to the UK Nguyen Hoang Long (R) speaks at the meeting (Photo: VNA)   
NDO/VNA – The bilateral relationship between Vietnam and the United Kingdom (UK) is at the finest development stage and still holds much potential for further growth, Vietnamese Ambassador to the UK Nguyen Hoang Long said during his online meeting with members and partners of the Vietnam-UK Network (VUKN) on July 5.
Long briefed them on the latest achievements in bilateral ties, especially in trade, education, security defence and people-to-people exchange.
According to him, two-way trade rose by 25% in the first six months of 2021, and the goal to raise it to US$10 billion in the next five years is feasible.
Potential for trade cooperation remains huge, especially in the context that Vietnam is entering a new economic development stage with average per capita GDP targets of US$3,500 by 2025 and US$7,000 by 2030.
As one of Vietnam's leading partners, the UK can meet the country's economic development demand in its strong fields such as science-technology, he stated.
The diplomat affirmed that education is the priority in bilateral collaboration, and the UK is Vietnam's leading partner in this field, with 74 trans-national programmes of 23 British universities.
Cooperation in defence security has also developed as well, as the UK is expanding its presence in the East Sea/South China Sea and Southeast Asia and considering Vietnam its main partner in the Indo-Pacific, he added.
VUKN President Warwick Morris suggested the two countries intensify cooperation in health, particularly in the global fight against the COVID-19 pandemic, and in science technology and mechanics.
TAG: