Thunderstorms to hit Northern region from night of July 4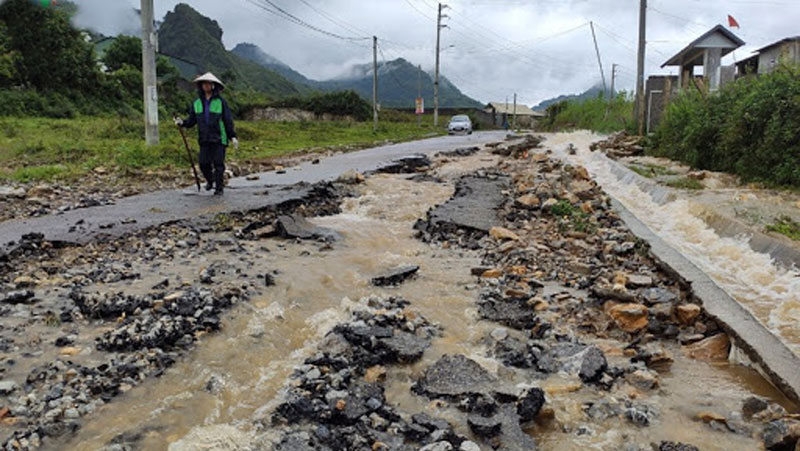 The possibility of flash floods, landslides and flooding warned in Northern mountainous provinces. (Illustrative image)   
NDO - Northern region is expected to face showers and thunderstorms with heavy rains in Northern mountainous areas from the night of July 4 to 7, according to the national weather forecast agency.
Heavy rainfall of 80-150mm per period, even over 250mm per period in some areas, are forecast to hit Northern mountainous region, with the possibility of tornadoes, lightning, hail, strong winds, flash floods, landslides and flooding.
According to the national weather forecast agency, intense heat in the Northern region will gradually decrease from July 5 while scorching heat in the Central region will be eased from July 6.
Meanwhile, today (July 4), the Northeast and Central regions are continuing to brave extreme heat with highest temperatures of over 39C.
Hanoi is also facing hot and sunny weather today with highest temperatures of 36-38C and over 38C in several places. Temperatures of over 35C will last from 10-18 hours while the lowest relative humidity is at 45-60%.
The maximum UV index in provinces and cities in the North and Central Vietnam is forecast to remain at a very high risk of harm in the next three days.
In the Southern provinces such as Can Tho and Ca Mau, the UV index will stand at a high risk threshold in the first two days, and then increase to a very high risk the following day. Particularly in Ho Chi Minh City, the maximum UV index will remain at a very high risk of harm over the next three days.
Due to prolonged intense heat combined with low humidity and a strong south-westerly wind, there is a very high risk of forest fires in the Central region and risk of explosions and fires in residential areas due to increasing demand for electricity.
TAG: