Vietnam reports 260 new Covid-19 cases, two more deaths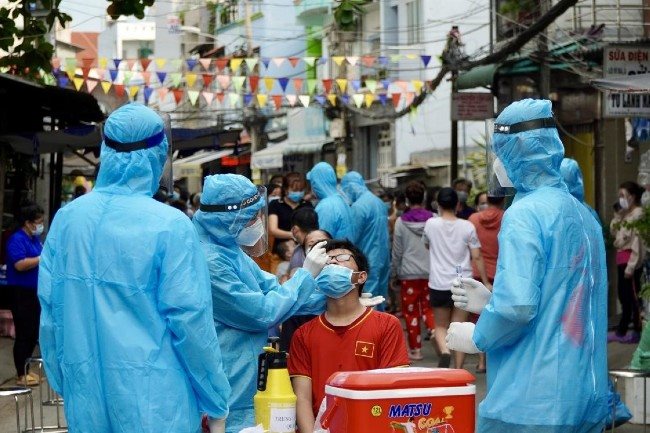 Medical workers take samples from local residents for Covid-19 tests. Vietnam's Covid-19 tally has risen to 19,570 as the Ministry of Health confirmed 260 new cases this afternoon - PHOTO: MINISTRY OF HEALTH
HCMC - Vietnam has reported 260 new Covid-19 cases, including 254 domestic infections and six imported ones, taking the country's Covid-19 tally to 19,570 as of this afternoon, July 4.
The domestic infections were detected in 12 localities, including 213 in HCMC, 11 in Binh Duong, 10 in Phu Yen, five in Long An and four in Binh Dinh. Besides, Vinh Long, Haiphong, Bac Giang and Tay Ninh reported two new cases each, while Ninh Thuan, Ha Tinh and Tra Vinh had one new case each.
The country has reported 16,095 local Covid-19 cases in 53 cities and provinces in the fourth Covid-19 wave since April 27. The new case confirmed this afternoon was Ninh Thuan Province's first Covid-19 infection in the latest outbreak.
With 5,865 cases, HCMC has surpassed Bac Giang, which now has 5,660 cases, to have the biggest number of domestic infections in the country in the fourth Covid-19 wave.
Vietnam's Covid-19 death toll has risen to 86 after the Ministry of Health confirmed two more fatalities this morning.
One of the deceased Covid-19 patients was an 81-year-old woman in Bac Ninh City, who had diabetes for four years and suffered from a stroke in 2019.
The woman suffered from Covid-19 symptoms like coughing and shortness of breath on May 24. She was sent to the Bac Ninh General Hospital and was diagnosed with severe pneumonia caused by Covid-19.
Her condition worsened on May 26 and she was transferred to the National Hospital for Tropical Diseases. Due to old age and serious underlying medical conditions, the patient responded poorly to treatment and passed away on July 2.
The second Covid-19 death confirmed this morning was a 64-year-old man in Hung Yen Province. He was diagnosed with throat cancer in January and underwent radiotherapy multiple times at the K Hospital.
He tested positive for Covid-19 with symptoms like fever and coughing on June 8. The patient was treated at the National Hospital for Tropical Diseases.
His condition worsened on June 16 and despite intensive care, he died of pneumonia caused by Covid-19, blood poisoning and septic shock on July 2.
These were the country's 51st and 52nd Covid-19 deaths in the fourth wave.
TAG: