HCMC-based firm suspends operation after 120 Covid-19 cases detected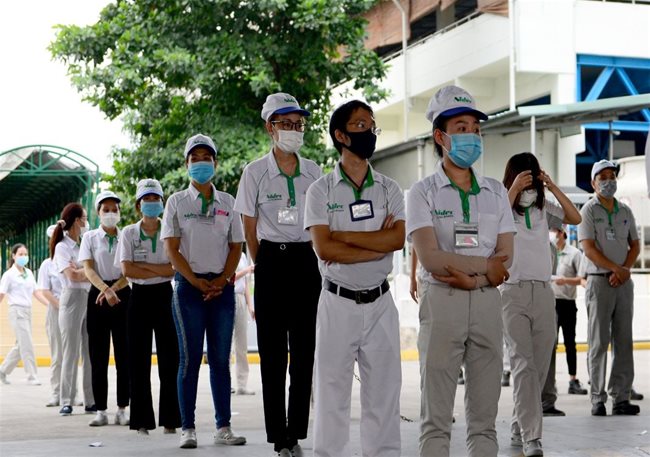 Employees of Nidec Sankyo Vietnam stand in line waiting to be swabbed for Covid-19 testing. Nidec Sankyo Vietnam has suspended its operation after up to 120 Covid-19 cases were detected over the past five days - PHOTO: TNO
HCMC - Nidec Sankyo Vietnam has suspended its operation after up to 120 Covid-19 cases were detected over the past five days at the company, making it the first firm in the Saigon Hi-Tech Park in HCMC to do so.
The management board of the Saigon Hi-Tech Park last night, July 3 said that the park asked the firm to suspend from 5.00 p.m. on the same day until July 5 to prevent the spread of Covid-19.
Its administrative units and key divisions were allowed to remain operational, but must comply with Covid-19 safety protocols, the local media reported.
Besides, the park management board told the firm to review and evaluate its Covid-19 safety conditions for its production operations.
The firm will resume its operation only when it gets the park management board's approval, offers its operating, testing and quarantine solutions and arrangement of accommodation for workers and provides a list of workers.
After the first Covid-19 case was detected at the firm on June 28, some 4,000 employees had their samples taken for Covid-19 testing and 28 other cases were found. On July 2, the health sector reported 91 more Covid-19 infections.
In another development, the government of Binh Tan District in HCMC has decided to continue locking down Quarters 2, 3 and 4 in An Lac Ward for seven more days from July 4 as the number of Covid-19 infections reported in the areas is still ticking up.
Depending on the Covid-19 situation, the lockdown will be soon lifted in some areas, according to the district government.
In related news, on July 1, some 500 patients and caregivers intentionally left the Binh Thuan General Hospital to return home though their quarantine period was yet to end.
As planned, they were allowed to return home on July 2, but they were impatient and wanted to go home quickly, thereby scaling the fence and escaping from the hospital, said Dr Nguyen Van Thanh, director of the hospital.
Earlier on June 26, a 38-year-old obstetrician tested positive for Covid-19, so the Obstetrics Department of the hospital was put under lockdown from June 24. Some 1,600 employees, patients and caregivers were not allowed to leave the site.
The director of the hospital also said that these people have tested negative for Covid-19 two or three times.
TAG: