COVID-19: Phu Yen records one Covid-19 death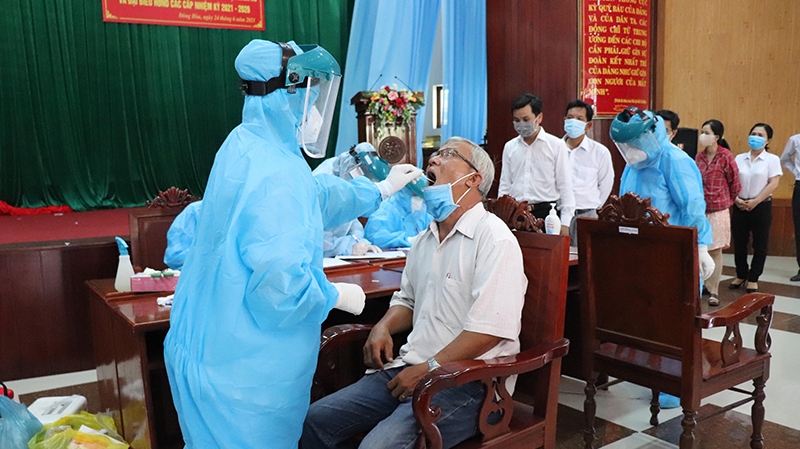 Illustrative image    
NDO - At 8 am on July 3, the Steering Committee for Covid-19 Prevention and Control of Phu Yen Province announced that the whole province recorded 50 more positive cases of SARS-CoV-2, and one Covid-19 related death.
Out of 50 people positive for SARS-CoV-2, 12 are F1 and F2s who are being treated at the hospital, 23 people are in concentrated isolation, 1 person is in isolation at home, and 14 people are in community and under epidemiological investigation.
Thus, within the 10 days from June 23 to now, Phu Yen Province has detected 247 positive cases of SARS-CoV-2 in the community.
Regarding the patient who died, Doctor Nguyen Thi Mong Ngoc, the director of Phu Yen Department of Health, said: Patient No.17108 was born in 1953 in Xom Giua, Ngan Dien Hamlet, Son Ha Commune, Son Hoa District, Phu Yen Province.
The patient has a six-year history of cerebrovascular accident, from about May 5, the patient was in a vegetative state ate through a catheter. The patient was found to be positive for SARS-CoV-2 on June 29, received treatment at the isolation area of Son Hoa District Health Centre, and died on the evening of July 2.
Another patient, being treated at Phu Yen Provincial General Hospital, is in critical condition, requiring mechanical ventilation and artificial dialysis.
* On the morning of July 3, the Dak Lak the Provincial Centre for Disease Control announced that the province recorded one more COVID-19-positive cases. This is the F1 case of case No.15921 recorded in Lak District.
The health sector of Dak Lak Province took samples for rapid antigen detection test for Covid-19 from 91 medical staff, 33 patients and 56 patient's relatives at the Lak District Health Centre.
On July 2, the Department of Health of Dak Lak Province issued Document No. 2277/SYT-NVD to temporarily block the Lak District Health Centre to screen, isolate and test all patients being treated, caregivers of patients, including medical staff and administrative staff serving and taking care of patients at the health centre and at the concentrated isolation area of Lak District; and to trace the cases related to F0, F1, F2 under the regulations.
* In order to thoroughly control the source of infection at the outbreak at Long An General Hospital, the Department of Health of Long An has agreed for Long An General Hospital to continue to suspend receiving patients for examination and treatment for the next seven days, from 9pm on July 2 to 9pm on July 9, 2020.
TAG: