Eight million Covid-19 vaccine doses to arrive this month: Health Minister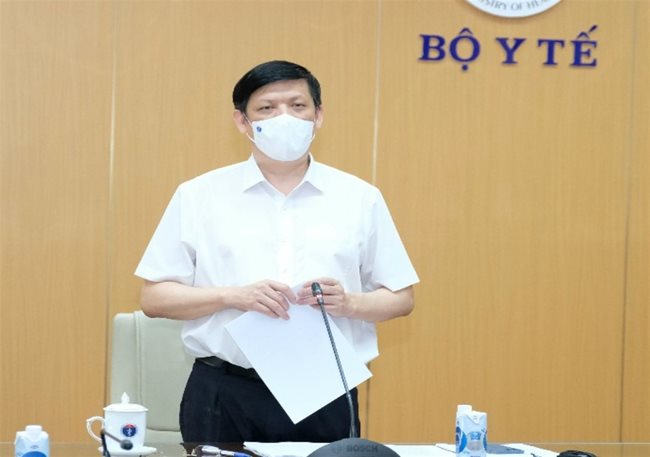 Minister of Health Nguyen Thanh Long announces at a meeting on July 2 that some eight million Covid-19 vaccine doses will arrive in Vietnam this month - PHOTO: MOH
HCMC - The Ministry of Health is trying to access as many Covid-19 vaccines as possible to meet the country's needs, and some eight million Covid-19 vaccine doses are set to arrive in Vietnam in July, Minister of Health Nguyen Thanh Long told a meeting on Covid-19 vaccination on July 2.
Chairing the meeting, Minister Long, head of the national steering committee for Covid-19 vaccination, said that due to a shortage of Covid-19 vaccine supplies, a huge volume of vaccine doses would only be shipped to Vietnam in the fourth quarter of the year.
Once the vaccines arrive in Vietnam, the ministry will mobilize the entire health system, including medical employees at State and private units, to join the Covid-19 vaccination drive to speed up the inoculation process in the rest of the year.
Apart from the careful preparation of storage, distribution, vaccination and technology application processes, safety should be prioritized during the inoculation period, said Long.
"We will cut administrative procedures, but not skip professional processes and must conduct careful screening checks to ensure safety in the vaccination process," said Minister Long.
He also said that all Covid-19 vaccine doses must be used effectively.
The next Covid-19 vaccination drive will be monitored and governed online, which will make the process transparent and public.
Addressing the meeting, Dang Quang Tan, head of the General Department of Preventive Medicine under the Ministry of Health, said that to serve the vaccination campaign, the steering committee decided to use eight cold storage warehouses of the Capital Military Zone and seven other regional military zones to store the Covid-19 vaccine doses.
Besides, vaccination venues were told to follow Covid-19 safety protocols and have different time frames with limited people for vaccination to ensure safety.
TAG: