Around 690 million people in world suffer from hunger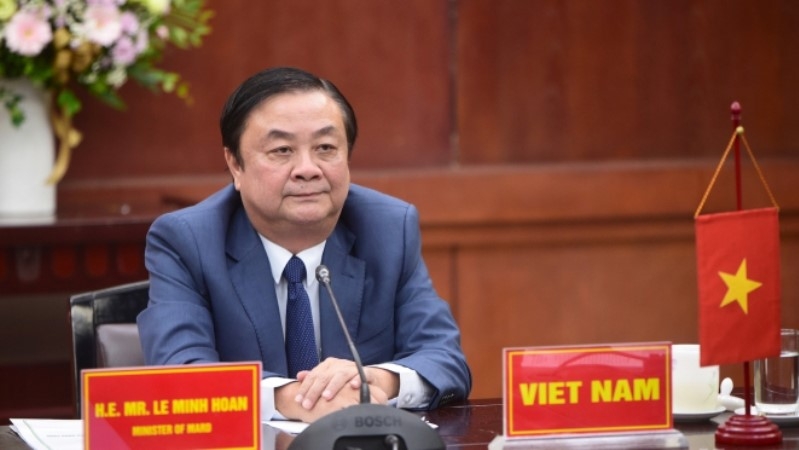 The Vietnam's Minister of Agriculture and Rural Development Le Minh Hoan participated in the National Leadership Roundtable held online on July 1.   
NDO – It is estimated that around 690 million people (8.9% of the population) are undernourished in the world at present, of which Asia is home to the largest number of undernourished people (381 million).
This information was announced by the Vietnam's Minister of Agriculture and Rural Development Le Minh Hoan at a round-table conference in preparation for the 2021 Food Systems Summit held online on July 1.
In the keynote address on initiatives promoting the transformation of the world food system at the opening session of the round-table conference, Minister Le Minh Hoan said that nearly one-third of the world's current population is regularly facing food and nutritional deficiencies. The world is still not on track to achieve Zero Hunger by 2030: "Security, nutrition and sustainable development poses many challenges for economies".
In that context, the Minister affirmed, agriculture has been and will continue to be an important industry in ensuring food security, promoting hunger eradication and poverty reduction and an important platform for other economic sectors in Asia and worldwide. With the advantage of agriculture, Asian countries have great room to dominate and lead the comprehensive and sustainable transformation of the global food system.
Minister Le Minh Hoan shared the key initiatives in which Vietnam wishes to strengthen cooperation with international partners to promote the transformation of the Asian and world food system.
Firstly, it is necessary to promote the linkage of innovation networks at home and across borders. Link research and application activities with the needs of businesses, the needs of the food system and the economy. Vietnam aspires to become the Food Innovation Hub in Asia.
Secondly, it is necessary to promote the application of digital technology, make the most of the application of 4.0 technology to build smart, sustainable agricultural value chains that are highly adaptable to vulnerabilities.
Thirdly, it is necessary to promote the development of ecological agricultural production, ensuring the connection between producers and consumers as a vital requirement for food security.
Vietnam wishes to contribute to the construction of the Global Food System as a "responsible, transparent and sustainable" food supply country, working together to achieve the sustainable development goals by 2030.
TAG: