Over 300 medical students, lecturers from Hai Duong travel to HCMC to fight Covid-19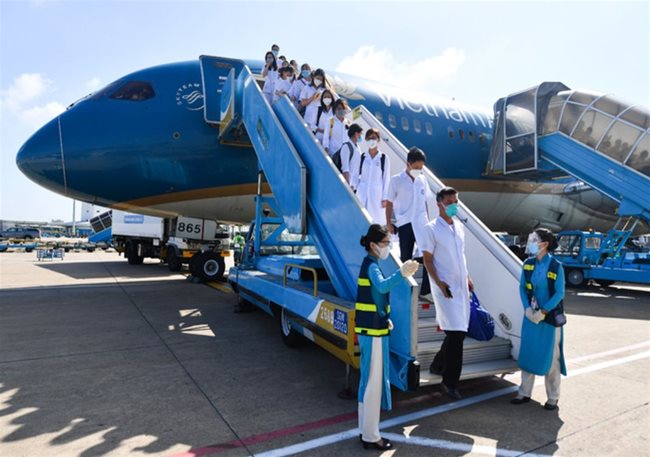 Medical students in Hai Duong Province arrive in HCMC to support the city in the fight against Covid-19 - PHOTO:VNA
HCMC - Over 300 students and lecturers at Hai Duong Medical Technical University flew to HCMC today, July 1 to join the fight against the Covid-19 pandemic.
Vietnam Airlines operated a flight to transport these students and lecturers to the city to help it suppress Covid-19, said a Vietnam Airlines representative.
The airline used a wide-body Boeing 787-9 Dreamliner aircraft for the flight, which took off at 7.00 a.m. from Hanoi City and landed in HCMC at 9.00 a.m, the local media reported.
The Hai Duong City Healthcare Center on June 27 worked with the university to inject the team with Covid-19 vaccine to ensure their safety during the battle against the pandemic.
Earlier, these students and lecturers had participated in the anti-pandemic fight in Hai Duong Province in February and in Bac Giang and Bac Ninh in May and June, which are the country's largest coronavirus hotspots.
Following the proposal from the Ministry of Health, the university on May 16 set up two teams, including 267 employees, lecturers and students, to support Bac Giang and Bac Ninh as the two were seeing the Covid-19 pandemic raging.
Only one week after completing their task in Bac Giang Province, which has basically brought the pandemic under control, the team continued to travel to HCMC for the anti-Covid-19 fight.
Since the current fourth wave of the coronavirus emerged on April 27, HCMC has reported over 4,000 domestic Covid-19 cases. The number of Covid-19 infections might continue to rise.
TAG: