HCMC urges hospitals to strengthen Covid-19 safety measures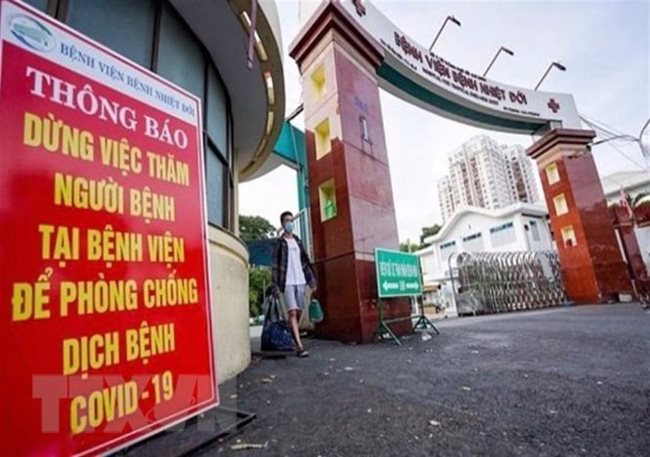 The HCMC Hospital for Tropical Diseases has put up a sign announcing it is receiving no visitors to prevent the spread of Covid-19 - PHOTO: VNA
HCMC - As 459 Covid-19 cases have been detected at hospitals in HCMC since May 18, the HCMC Department of Health has asked all hospitals citywide to intensify anti-pandemic measures to minimize the risk of transmission.
Apart from conducting Covid-19 screening and checking the body temperature of outpatients, the hospitals in the city were told to conduct Covid-19 tests using the RT-PCR method for all caregivers and those who visit the hospitals for medical checkups.
The department also asked hospitals to prepare sufficient facilities for the health declaration and screening areas and separate them from their departments.
In addition, people who are hospitalized must temporarily quarantine at hospitals and wait for their RT-PCR test results before being transferred to the departments for inpatients.
Further, hospitals should regularly conduct Covid-19 tests for their employees to prevent the potential spread of Covid-19, the local media reported.
Since the current fourth wave of the coronavirus began on April 27, HCMC has seen 55 of 130 hospitals detect positive Covid-19 cases among those who visited the hospitals for medical checkups or treatment.
On June 30, Pham Ngoc Thach Hospital reported 25 Covid-19 infections, who are patients and relatives of patients at the hospital.
The initial investigation showed that a patient receiving treatment at the hospital's department of drug-resistant tuberculosis tested positive for Covid-19 and spread to 24 other people who are the patient's relatives and other patients.
Moreover, the Saigon General Hospital detected 10 Covid-19 cases among its employees, following which the hospital was put on lockdown for screening and testing.
Earlier, several other hospitals had been locked down, including Tan Phu District Hospital, Nam Saigon Hospital and the HCMC Hospital for Tropical Diseases.
TAG: