Binh Phuoc locks down several areas due to first Covid-19 case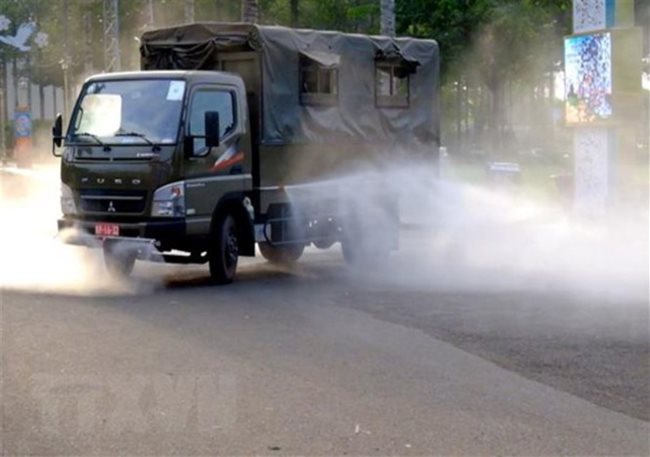 An area in Binh Phuoc Province is disinfected. Having detected the first positive Covid-19 case in the current fourth wave of the coronavirus, Binh Phuoc Province quickly locked down several areas - PHOTO: VNA
HCMC - Having found the first positive Covid-19 case in the country's current fourth wave of the coronavirus, Binh Phuoc Province quickly locked down several areas linked to the case to prevent the spread of Covid-19.
The area around a general clinic in Hieu Cam Hamlet in Chon Thanh Town, another part of the hamlet and many parts in Trung Loi Quarter with some 100 households were put on lockdown, according to a decision signed by Ha Duy Dat, chairman of Chon Thanh District in the province, on June 30.
Facing the same fate, several parts of Quarters 2 and 3 in Chon Thanh Town were also locked down until further notice, the local media reported.
The police of the district were tasked with cooperating with the relevant agencies to set up coronavirus checkpoints and keep a close watch on the Covid-19 situation to curb the spread of the virus effectively.
Binh Phuoc on June 30 reported the first Covid-19 case in Chon Thanh District. The patient is a 40-year-old man who lives in neighboring Binh Duong Province and came to Chon Thanh District for work.
After developing symptoms of a fever and sore throat, he visited Chon Thanh Healthcare Center for a medical checkup and his Covid-19 test result came back positive.
Local authorities identified 22 direct and indirect contacts of this confirmed case and sent them into quarantine, according to the Binh Phuoc Center for Disease Control.
TAG: