Vietnam's new Covid-19 case numbers still high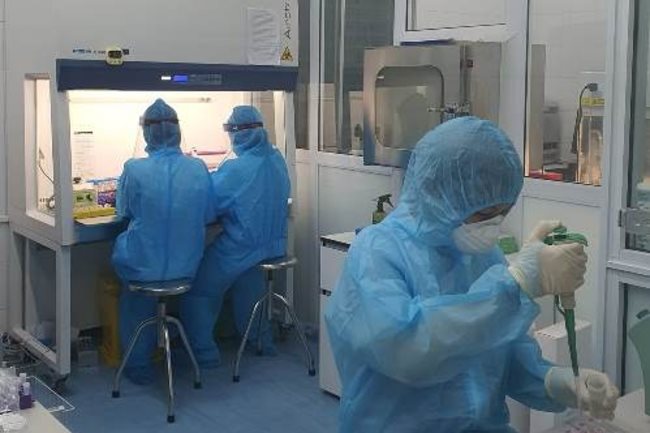 Medical workers work at a Covid-19 test laboratory. The Ministry of Health confirmed 260 new Covid-19 cases this afternoon - PHOTO: MINISTRY OF HEALTH
HCMC - Vietnam has reported 260 new Covid-19 cases – 258 of them infected locally and two imported, sending the country's total as of this afternoon, July 1 to 17,312.
HCMC still took the lead in new infections, with 154 cases, followed by the neighboring provinces of Binh Duong and Long An with 48 and 28 cases, respectively.
The other cases were detected in Phu Yen with ten, Hung Yen with five and Bac Giang with four. Nghe An and Ha Tinh had three new cases each, while Binh Phuoc, Dong Thap and Bac Ninh recorded one case each.
The southern province of Binh Phuoc reported the first Covid-19 case since the current fourth Covid-19 wave began in Vietnam on April 27. The province has quickly locked down several areas linked to the case to prevent the spread of the disease.
The area surrounding a general clinic in Hieu Cam Hamlet in Chon Thanh Town, another part of the hamlet and many parts in Trung Loi Quarter with some 100 households have been put on lockdown. Facing the same fate, several parts of Quarters 2 and 3 in Chon Thanh Town have also been locked down until further notice.
The two imported cases were reported in Kien Giang. They returned to the country through the province's Ha Tien International Border Gate on June 30 and are undergoing treatment at the Ha Tien City Medical Center.
Vietnam has reported 13,942 domestic infections in 51 cities and provinces in the fourth coronavirus wave.
Due to an upsurge in new infections, especially in southern cities and provinces, some quarantine centers have become overloaded.
Therefore, the Ministry of Health is considering expanding home quarantine for direct contacts of Covid-19 patients after piloting the scheme in HCMC. The home quarantine scheme is expected to reduce the strain on centralized quarantine facilities and prevent cross infection in overloaded quarantine centers.
TAG: