Vietnam reports 189 new Covid-19 cases, mostly in HCMC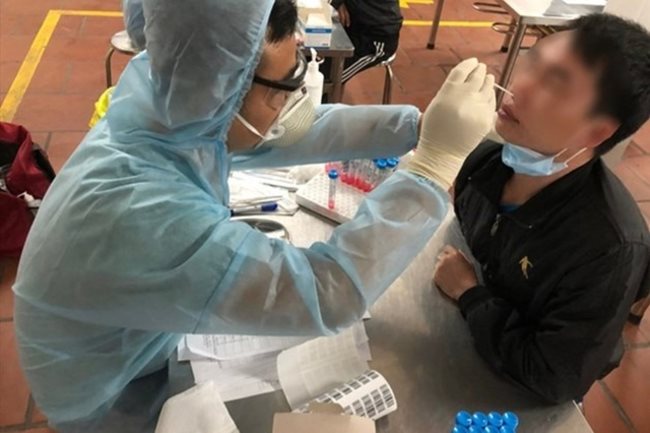 A medical worker takes samples from a man for Covid-19 tests. Vietnam reported 189 new Covid-19 cases on Thursday morning - PHOTO: MINISTRY OF HEALTH
HCMC - The Ministry of Health confirmed 189 new Covid-19 infections, including 158 cases in the epicenter of HCMC, this morning, July 1.
The other infections were reported in Tien Giang with 16 cases, Phu Yen with eight, Hung Yen with six and Vinh Long with one. These new cases took Vietnam's Covid-19 tally to 17,052.
The country has recorded 13,684 domestic transmissions in 50 cities and provinces in the fourth Covid-19 wave since late April.
Up to now, some 3.8 million people in Vietnam have been vaccinated against Covid-19, of whom more than 193,000 people have received two doses.
With 158 new Covid-19 cases confirmed this morning, HCMC's total number of local infections in the latest outbreak has risen to 3,998. Despite social distancing measures, the city still saw a sharp increase in Covid-19 cases, including many cases whose sources of infection remain unknown.
The city government has decided to set up 25 special teams to combat the pandemic, including 22 teams in Thu Duc City and districts and three others in industrial parks, export processing zones and hi-tech parks.
Binh Duong, the neighboring province of HCMC, is asking for support from the Ministry of Health as its number of Covid-19 cases has exceeded 300, including many workers in factories and industrial parks.
The provincial government proposed the ministry dispatch experts in epidemiological investigation and medical workers to support the testing and treatment work. In addition, the province is in need of test kits, Covid-19 testing machines and protective equipment.
Meanwhile, the northern province of Bac Ninh, one of the country's largest Covid-19 hotspots, has brought the pandemic under control. The province has seen five out of eight districts and towns enter a new normal stage.
TAG: