Dong Nai imposes social distancing in four areas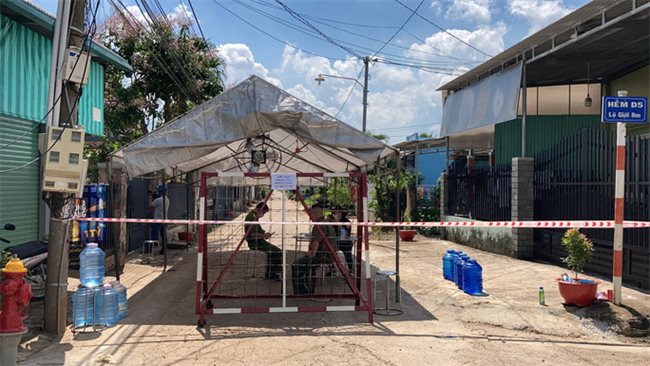 An area is under lockdown in Gia Tan 2 Commune, Thong Nhat District, Dong Nai Province. The four communes of Gia Tan 1, 2, 3 and Gia Kiem in the district began social distancing starting from 11 p.m. on June 29, after they reported 22 locally-infected cases of Covid-19 – PHOTO: NLDO
HCMC – Dong Nai Province's Thong Nhat District issued a social distancing order in line with the prime minister's Directive 16 in the four communes of Gia Tan 1, 2, 3 and Gia Kiem starting from 11 p.m. on June 29, after they reported 22 locally-infected cases of Covid-19.
As of June 29, Thong Nhat District recorded 22 coronavirus cases linked to the HCMC-based Hoc Mon wholesale market and had to lock down 10 locations in the four affected communes, reported Nguoi Lao Dong newspaper.
The authorities called on people in the four communes to stay at home and only go out for food, medicine, emergencies and other essential purposes.
During the social distancing period, non-essential services will be stopped, while eateries were told to offer take-away services only.
Manufacturing, business facilities and essential services that can continue their operations include factories, traffic and construction works, food stores, drugstores and petrol stations, among others.
Local residents are allowed to maintain production at home and harvest agro products in their farms and production areas.
As for the infection clusters in the district, the Thong Nhat Medical Center performed a quick test for traders and drivers at the Doc Mo market in Gia Tan 1 Commune and Dau Giay wholesale market in Dau Giay Town. The testing results of 533 samples came out negative.
The medical center also conducted a rapid test for traders and drivers in the communes of Gia Tan 3 and Gia Kiem and is awaiting the results.
Mai Van Hien, chairman of the district, asked the local competent forces to continue the tracing work and make a list of people who had visited the virus-hit areas for trading.
TAG: