Vietnam approves Moderna Covid-19 vaccine for emergency use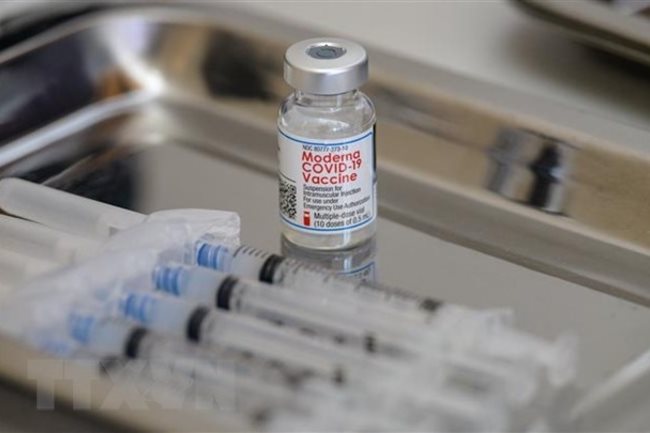 A vial of the U.S. pharmaceutical company Moderna's Covid-19 vaccine, which has been approved for emergency use in Vietnam - PHOTO: VNA
HCMC - The Ministry of Health has approved the U.S. pharmaceutical company Moderna's Covid-19 vaccine for emergency use in Vietnam.
The decision was signed by Deputy Minister of Health Truong Quoc Cuong on June 28. The Moderna vaccine, which comes with the brand name Spikevax, is the fifth to be approved for emergency use in the country after AstraZeneca, Sputnik V, Sinopharm and Pfizer/BioNTech.
Each dose of 0.5 milliliter contains 100 micrograms of mRNA produced using a cell-free in vitro transcription from the corresponding DNA templates, encoding the viral spike protein of the coronavirus. The vaccine comes in a box containing 10 vials which hold 10 doses each.
The Moderna vaccine is administered as a course of two doses. It is recommended to administer the second dose 28 days after the first one.
According to the U.S. Center for Disease Control and Prevention, the vaccine has proved over 94% effective in preventing Covid-19 infection in people who received two doses.
The manufacturing plants of the Moderna Covid-19 vaccine approved for use in Vietnam are the Rovi Pharma Industrial Services in Spain and the Recipharm Monts in France. The production facilities could be subject to changes depending on the supply capacity.
Zuellig Pharma Vietnam Co. Ltd will distribute the vaccine in Vietnam. The company is responsible for collaborating with vaccine manufacturers to monitor the production of the vaccine imported into Vietnam.
It will also work with the local health authorities to ensure the safety, efficacy and quality of the products.
The vaccine was developed by Moderna in collaboration with the United States National Institute of Allergy and Infectious Diseases and the Biomedical Advanced Research and Development Authority. It was approved for emergency use by the World Health Organization in April and up to now has been authorized for use at some levels in over 50 countries worldwide.
Besides a potential donation from the Biden Administration, the Vietnamese health authorities said early this month that they had ordered five million doses of the Moderna vaccine.
Vietnam has been vaccinating its people against Covid-19 using the AstraZeneca vaccine since early March. Up to now, some 3.5 million people have received the jabs, with nearly 173,000 of them receiving two doses.
TAG: