HCMC extends social distancing as Covid-19 continues spreading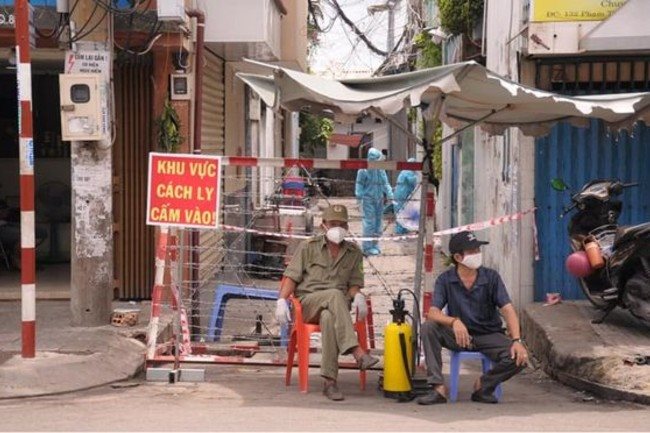 An area in HCMC is on lockdown due to Covid-19 infections. HCMC will continue Covid-19 restrictions as the pandemic is still developing complicatedly - PHOTO: MINISTRY OF HEALTH
HCMC - HCMC has extended social distancing as Covid-19 is still spreading, the city's vice chairman Duong Anh Duc said at a meeting yesterday.
Duc said the city continues indefinitely practicing social distancing in line with its Directive No. 10, which requires the suspension of nonessential services, public transport and makeshift wet markets. It also bans gatherings of more than three people in public spaces and requires people to maintain a safe physical distance of at least 1.5 meters from each other.
Given a strong spike in new cases, HCMC chairman Nguyen Thanh Phong issued Directive 10 on June 19 providing stricter anti-coronavirus regulations than those in the Prime Minister's Directive 15 on Covid-19 prevention and control.
Directive 10 allows residents to go out to buy food and medicines, work at factories or in case of emergencies as instructed by the HCMC Department of Health.
"There is no end date for Directive No. 10. The city will continue to apply this directive from June 30," Duc said.
After the fourth coronavirus infection wave emerged on April 27, the city decided to impose social distancing citywide following the prime minister's Directive No. 15 for 15 days beginning on May 31 but Go Vap District and a part of District 12 were put on lockdown in line with the more draconian Directive 16.
On June 14, HCMC chairman Nguyen Thanh Phong decided to extend the social distancing period following Directive No. 15 for another two weeks as new Covid-19 cases continued to soar drastically.
On June 19, the city government issued Directive No. 10 strengthening Covid-19 containment measures in the city as more infection chains of infection, such as traditional wet markets, had been detected without known sources of infection.
TAG: