Vietnamese, Lao leaders agree on cooperation orientations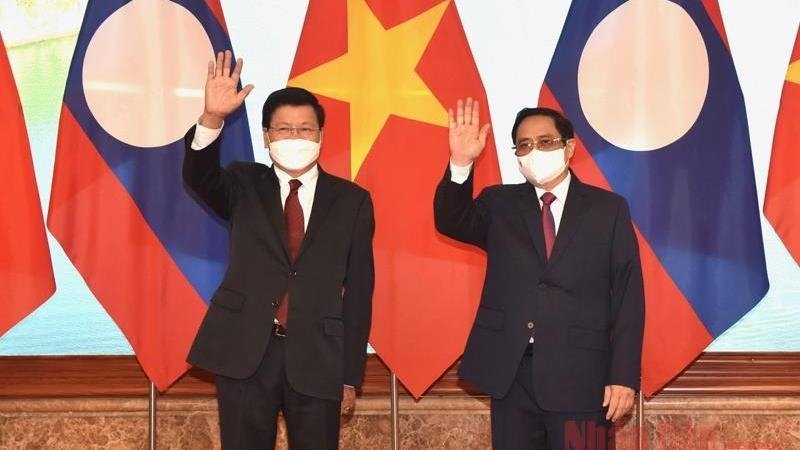 Vietnamese, Lao leaders agree on cooperation orientations   
NDO/VNA – Vietnamese Prime Minister Pham Minh Chinh and Lao Party General Secretary and State President Thongloun Sisoulith reached consensus on cooperation orientations between the two countries in the time ahead during their meeting in Hanoi on June 28.
Accordingly, the two sides will continue their close coordination to effectively realise high-level agreements, outcomes of meetings of the Vietnam-Laos inter-governmental committee as well as cooperation programmes between ministries, agencies and localities.
They will also further provide mutual support in COVID-19 containment and socio-economic recovery and development, while coordinating in implementing major joint projects.
The leaders consented to soon build the Laos - Vietnam friendship park in the Lao capital city of Vientiane, and work together to mark the 60th founding anniversary of bilateral diplomatic ties, and 45 years of the signing of the Vietnam - Laos Treaty of Amity and Cooperation in 2022.
Thongloun lauded Vietnam's efforts and achievements in COVID-19 containment and socio-economic development, saying Vietnam was among a few countries in the world that have recorded positive growth last year.
Both leaders rejoiced at the development of the great friendship and special solidarity between the two countries. Two-way trade in the first five months of this year reached US$ 570.7 million, up nearly 40% year-on-year. Vietnam has 208 valid projects valued at US$ 5.16 billion in the neighbouring country.
They also looked at cooperation between the two countries within multilateral frameworks, especially ASEAN and sub-regional mechanisms.
The leaders shared views on a number of regional and international issues of shared concern, including the East Sea issue and the sustainable and effective use of the Mekong River's water sources.
They concurred to continue their close coordination and mutual support, for peace, stability and development in the region and the world.
Later the same day, Party General Secretary Nguyen Phu Trong, State President Nguyen Xuan Phuc and their spouses hosted a banquet in honour of Lao Party General Secretary and State President Thongloun Sisoulith, his wife and the Lao delegation.
Addressing the banquet, Trong affirmed that Thongloun's first Vietnam visit in his capacity as Party General Secretary and State President of Laos is an important political event, marking a milestone in the bilateral ties.
TAG: