Vietnam's Covid-19 tally rises by 102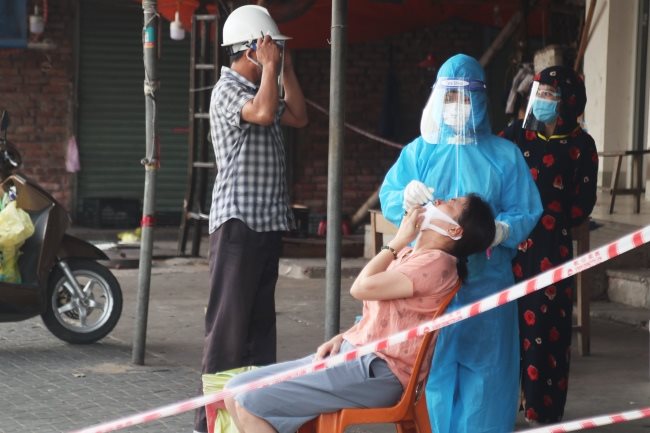 A medical worker takes samples from a local woman for Covid-19 tests. Vietnam reported 102 new Covid-19 infections on Friday evening - PHOTO: MINISTRY OF HEALTH
HCMC - Vietnam this evening, June 25, reported 102 new Covid-19 infections, including 94 domestic cases and eight imported ones, taking its Covid-19 tally to 14,537.
HCMC reported the biggest number of new local transmissions with 54 cases, followed by Binh Duong and Tien Giang with eight cases each.
The Ministry of Health also confirmed five new cases in Danang, four in Bac Ninh and three in Bac Giang. Haiphong and Dong Thap had two new cases each and Lang Son and Thai Binh detected one infection each.
The eight imported cases were recorded in three localities, including one in Tay Ninh, three in Quang Nam and four in HCMC.
Earlier this afternoon, the HCMC Department of Health told a press briefing that the city recorded 667 Covid-19 infections within 24 hours since 6a.m. yesterday, but the Ministry of Health has not confirmed hundreds of cases reported.
Some 5,950 Covid-19 patients in the country have fully recovered, including 190 people discharged from the hospital today, while the Covid-19 death toll has reached 74.
In the context of the complicated Covid-19 situation, some cities and provinces have tightened preventive measures to curb the spread of the pandemic.
Cam Pha City in Quang Ninh Province has set up eight Covid-19 checkpoints at entrances to the city, while Haiphong City has imposed social distancing in Vinh Bao District. Cam Pha City has also suspended nonessential services and activities such as bars, pubs, karaoke and massage parlors and game and Internet shops and banned mass gatherings and cultural and sporting events.
The Department of Health of Binh Duong Province has worked out a plan to establish a field hospital for Covid-19 treatment by requisitioning a mental illness treatment facility in Tan Uyen Town. The province will initially prepare 100 beds at the hospital and in case the pandemic emerges more complicated and the number of Covid-19 patients increases, the capacity of the field hospital will be raised to 200 beds.
Dong Thap Province has locked down the Sa Dec General Hospital for seven days from 9.00 p.m. on June 24 after a patient tested positive for Covid-19. The hospital is cooperating with the Dong Thap Center for Disease Control to test all the patients and caregivers who were in the same room as the Covid-19 patient, who lives in Lap Vo District.
HCMC, which is having the second biggest number of Covid-19 cases in the country during the fourth Covid-19 wave that began in late April, expects to finish injecting its residents with 836,000 doses of Covid-19 vaccine, most of them donated by Japan, by the end of June 25.
To accelerate Covid-19 vaccination, which plays a critical role in fighting off the pandemic, the Ministry of Health has established a national steering committee for Covid-19 vaccination led by Minister of Health Nguyen Thanh Long.
The committee comprises five subcommittees responsible for receiving, transporting and preserving Covid-19 vaccines; using vaccines; ensuring safety during the vaccination process; monitoring the quality of vaccines; and applying technology in the Covid-19 vaccination management and communication.
TAG: