Quang Ninh, Haiphong strengthen anti-pandemic measures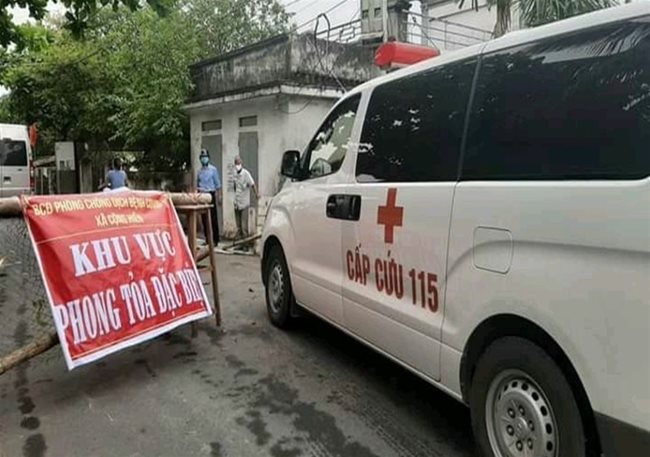 An ambulance transports Covid-19 cases. Quang Ninh Province and Haiphong City have intensified anti-pandemic measures - PHOTO: TNO
HCMC - Cam Pha City in Quang Ninh Province has set up eight coronavirus checkpoints at entrances to the city, while Haiphong City has imposed social distancing in Vinh Bao District in line with the Prime Minister's Directive 15 to prevent the spread of Covid-19.
Cam Pha City is also practicing the social distancing order in line with Directive 15, while the more stringent order has been imposed in some parts of the city where positive Covid-19 cases have been detected, said Secretary of Cam Pha City Party Committee Nguyen Anh Tu.
Over 230 soldiers, police officers and medical workers have been mobilized to work at the checkpoints to tighten control over people and vehicles entering the city, the local media reported.
Besides, the municipal government asked residents to stay at home to contain the spread of the virus.
At 6.00 a.m. today, June 25, Cam Pha City suspended nonessential services and activities such as bars, pubs, karaoke and massage parlors and game and Internet shops and banned mass gatherings and cultural and sporting events.
After the Ministry of Health reported one domestic Covid-19 case in Vinh Bao District, Haiphong City, this morning, the district quickly locked down the residential area in Cong Hien Commune where the patient lives.
Nguyen Duc Canh, chairman of Vinh Bao District, said that while the district is practicing the social distancing order in line with Directive 15, Cong Hien Commune is applying the order in line with Directive 16, harsher than the former, until further notice.
Quang Ninh has reported three locally-infected Covid-19 cases, while Haiphong City has detected four domestic ones in the current fourth wave of the coronavirus, which began on April 27.
TAG: