Two more cities begin social distancing due to raging Covid-19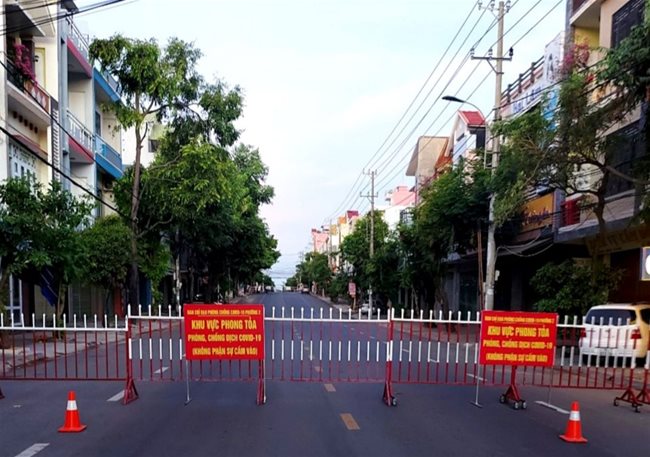 A street in Tuy Hoa City, Phu Yen Province, is under lockdown. Tuy Hoa City and Phan Thiet City in Binh Thuan Province are practicing social distancing in line with Directive 15 - PHOTO: VGP
HCMC - The government of Tuy Hoa City in Phu Yen Province imposed a 15-day social distancing order in the entire city in line with the Prime Minister's Directive 15 from 3.00 p.m. today, June 24, while Binh Thuan Province began social distancing for Phan Thiet City in line with the same directive for two weeks from 12.00 p.m.
Cao Dinh Huy, chairman of Tuy Hoa City, signed the decision after five people tested positive for Covid-19, the local media reported.
The areas under lockdown which are linked to the positive cases must practice social distancing in line with Directive 16, more stringent than Directive 15, for 15 days.
During the social distancing period, festivals, religious events and other activities which attract many people must be suspended to contain the spread of Covid-19.
Restaurants, eateries and coffee shops will remain operational, but they have to offer takeaway services and comply with Covid-19 safety protocols.
The Tuy Hoa City government also ordered the suspension of nonessential meetings and conferences and encouraged units and agencies to hold online meetings.
Speaking at a meeting on the same day, Le Huynh Linh, director of the Tuy Hoa City Healthcare Center, said that among the eight suspected Covid-19 cases in Phu Yen Province, the city accounted for six, with five testing positive for the virus once.
After the contact tracing efforts, as many as 68 people in the city were found to have close contact with these cases, Linh said, adding that the number of close contacts might reach 200.
As for Phan Thiet City, the social distancing order was imposed after Binh Thuan Province detected one suspected Covid-19 case, a female doctor.
Besides, Tuy Phong District will begin social distancing in line with Directive 15 for two weeks from midnight, June 25, according to the Binh Thuan government.
Residents in Phan Thiet City and Tuy Phong District must avoid gatherings of 10 persons or more in public places and keep a safe physical distance of at least two meters.
The 38-year-old doctor, who is working at the Binh Thuan General Hospital, tested positive for Covid-19 last night, June 23, through screening.
Earlier, she worked at the An Phuc Saigon General Hospital in Dong Nai Province. On June 13, she returned to Tuy Phong District, Binh Thuan Province. She traveled to Phan Thiet City for work at the Binh Thuan General Hospital on June 14.
Among the 300 people in close contact with the doctor, three tested positive for the virus, said the Binh Thuan Department of Health.
TAG: