Vietnam calls for enhanced cooperation to address instability in Central African Republic, Syria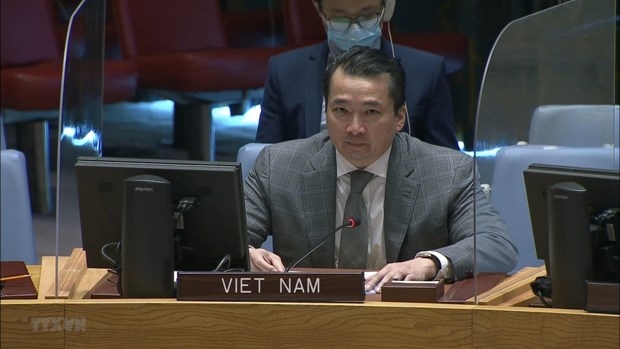 Ambassador Pham Hai Anh, Deputy Permanent Representative of Vietnam to the United Nations (Photo: VNA)   
NDO/VNA – Ambassador Pham Hai Anh, Deputy Permanent Representative of Vietnam to the United Nations, has called for closer cooperation among stakeholders to address security and humanitarian challenges in the Central African Republic (CAR) and Syria.
Addressing a meeting of the UN Security Council (UNSC) on June 23 to discuss the situation in the CAR, the ambassador shared the UNSC's concern about security instability and serious impacts on recent humanitarian activities in the country, while urging all parties to promote trust building and dialogue, as well as regional cooperation to solve common security challenges.
Regarding difficulties facing operations of the UN Multidimensional Integrated Stabilisation Mission in the Central African Republic (MINUSCA), Anh emphasised the need to strengthen coordination between field forces for the common goal of restoring peace and promoting development in the country, create favourable conditions for the mission as well as ensure the security and safety of its staff.
Mankeur Ndiaye, Special Representative of the UN Secretary-General for the Central African Republic and head of MINUSCA, briefed participants on instability in the country, saying that certain armed groups have opposed the election process in the country.
Security instability continues to cause civilian casualties and serious humanitarian consequences, he said.
Participants acknowledged the commitment of the Central African Republic's government in promoting dialogue and socio-economic development, and implementing the Peace Agreement.
At a regular meeting of the UNSC to discuss the humanitarian situation in Syria on the same day, UN Secretary-General António Guterres and Acting Under-Secretary-General for Humanitarian Affairs Ramesh Rajasingham informed participants of the difficult situation for the Syrian people at present as a result of the years of instability and serious socio-economic crisis and the impact of the COVID-19 pandemic.
TAG: