Urgent approval sought for Vietnam's Nano Covax vaccine candidate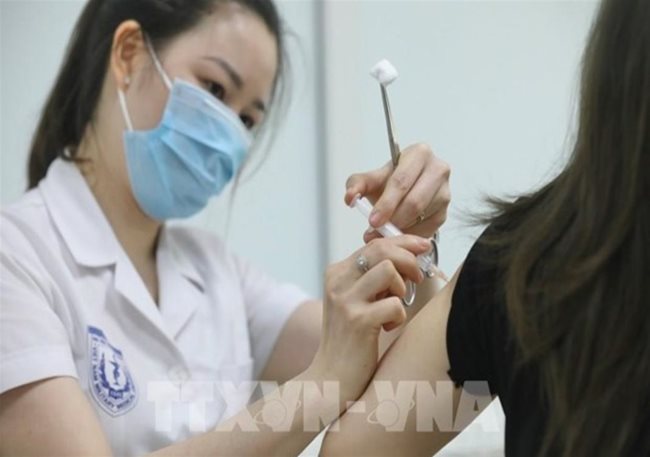 A medical worker gives a shot of Nano Covax to a volunteer in the third phase of the human trial of the vaccine. HCMC-based Nanogen Pharmaceutical Biotechnology JSC has proposed the prime minister approve the emergency use of Nano Covax - PHOTO: VNA
HCMC - HCMC-based Nanogen Pharmaceutical Biotechnology JSC has proposed the prime minister approve the emergency use of its Covid-19 vaccine candidate, Nano Covax.
After the first and second phases of human trials of Nano Covax were completed, it was evaluated as safe by the Research Ethics Committee. Besides, the committee and the Ministry of Health approved a plan to start the third phase of human trials of the candidate on 13,000 volunteers on June 11.
The results of the clinical trials in the first and second phases showed that the vaccine candidate's immunogenicity reached 99.4%, higher than some Covid-19 vaccines in the world. Despite this, each dose of the candidate is set to cost a mere VND120,000.
Nanogen's plant produces an estimated 8-12 million Nano Covax doses each month, while Nanogen is completing and expanding its cold storage warehouse system which can contain 10 million doses of the Covid-19 vaccine and meets global standards.
The local drugmaker can provide 50 million doses of the vaccine by the end of 2021 and 100 million doses in 2022.
After the vaccine is approved for emergency use, Nanogen will be determined to produce and provide a sufficient volume of the vaccine to help Vietnam reach herd immunity in the second quarter of 2022.
In related news, the Vietnam Military Medical Academy today said that the administration of the first 1,000 shots in the third phase of the human trial of Nano Covax was completed.
The jabs were given to some 880 volunteers in the northern region and more than 120 others in the southern region.
Lieutenant Colonel Chu Van Men, director of the academy's Center for Bioequivalence Studies and Clinical Research, said that after being injected with a dosage of 25 micrograms, their health condition was stable.
TAG: