PM wants private and State units to avoid competing over Covid vaccine purchase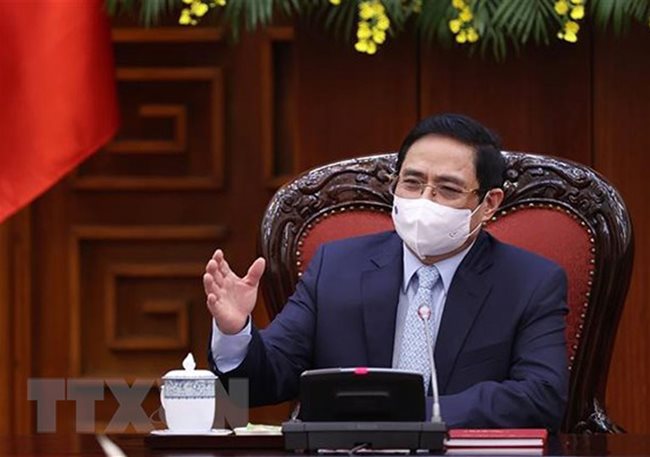 Prime Minister Pham Minh Chinh speaks at a teleconference on the Covid-19 infection prevention and control on June 21 – PHOTO: VNA
HCMC – Prime Minister Pham Minh Chinh has urged the relevant ministries and departments to speed up the purchase of the Covid-19 vaccines while warning against competition between private units and State agencies in access to vaccine suppliers.
Speaking at a teleconference on June 21, PM Chinh said that the access to the Covid-19 vaccines should be fair but any competition leading to overpricing should be avoided.
The development of Covid-19 remains complicated and the disease might hit any areas or localities at any time, so authorities and residents must always be watchful, said the Government leader.
The prime minister also said that the efforts in the fight against Covid-19 were positive, praising the Ministry of Health, the governments of Hanoi, Vinh Phuc, Ha Nam, Bac Ninh, Bac Giang and HCMC for their efforts to contain the virus, the local media reported.
To quickly contain the spread of the coronavirus in the current fourth wave and bring production activities and residents' daily lives back to normal, the prime minister called on the local authorities to adopt effective and suitable anti-virus measures.
Residents were told to continue following Covid-19 safety protocols, including wearing face masks, avoiding gatherings, washing hands with sanitizer, making health declarations and disinfecting.
The provinces and cities being hit by Covid-19 should adopt suitable lockdown, quarantine and testing measures to prevent the spread of the virus.
The ministries and departments were asked to remove obstacles facing the fight against the pandemic, issue regulations on the purchase of Covid-19 vaccines and anti-virus measures at industrial parks, quarantine facilities and healthcare centers.
The provincial and municipal governments and departments were tasked with cutting administrative procedures to support laborers and firms during the hardships caused by the pandemic.
TAG: