Vietnam's Covid-19 tally surges by 135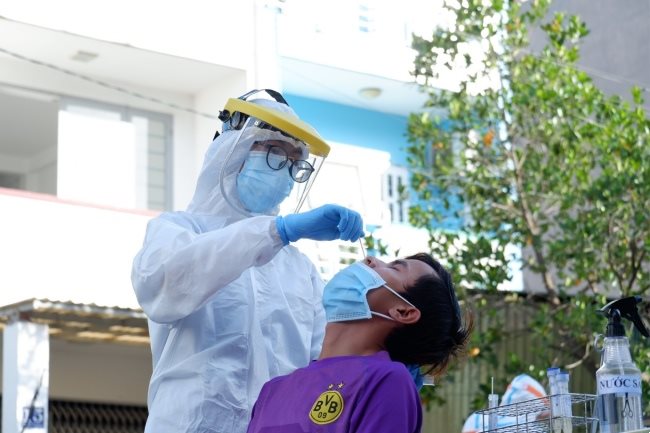 A medical worker takes samples from a man for Covid-19 testing in Hoc Mon District, HCMC. The city accounted for more than half of new Covid-19 cases confirmed in the country this evening, June 21 - PHOTO: MINISTRY OF HEALTH
HCMC - Vietnam reported 135 new Covid-19 cases, including 133 domestic infections and two imported ones, this evening, June 21, taking the country's Covid-19 tally to 13,483.
HCMC recorded the largest number of new infections with 70 cases, followed by Bac Giang with 30 cases. These are also the country's biggest Covid-19 hotspots currently.
The other local transmissions were detected in Binh Duong, Bac Ninh, Danang and Hung Yen, with 21, six, four and two cases, respectively.
The Ministry of Health also confirmed two imported Covid-19 cases in An Giang and Kien Giang. Both of them returned to the country on June 19 and were put under quarantine upon arrival.
Up to now, 5,453 Covid-19 patients in the country have fully recovered, including 224 people discharged from the hospital today.
The country's Covid-19 death toll has risen to 69 after three more deaths were confirmed today.
Two of them were reported in HCMC, including a 75-year-old man in District 8 and a 67-year-old woman in Binh Chanh District. The other fatality was a 86-year-old woman in Viet Yen District, Bac Giang Province.
All of them suffered from underlying heath conditions such as type 2 diabetes, high blood pressure, cushing syndrome and dyslipidemia. Due to old age and serious illnesses, they responded poorly to treatments.
In related news, the Ministry of Health yesterday provided training on Covid-19 infection prevention and control in industrial parks, export processing zones and hi-tech parks for HCMC's 22 districts and Thu Duc City.
Addressing the training course, Duong Chi Nam, deputy director of the Environmental Management Department under the Ministry of Health, said as an economic hub of the country, HCMC is home to a large number of industrial parks and export processing zones.
If the pandemic spreads widely in these high-risk zones, the production and socioeconomic situation of not only the city but also the whole country will be severely affected. Therefore, preventing the spread of Covid-19 in industrial parks and export processing zones is of special importance.
The ministry suggested that HCMC establish 100 inspection teams to ensure proper implementation of Covid-19 infection prevention and control measures in industrial parks and export processing zones.
The teams will have to inspect some 2,000 businesses which employ over 2,000 workers each within three to five days. Those who fail to comply with preventive measures will have to suspend operations.
TAG: