Danang seeks to offer special loans to tourism workers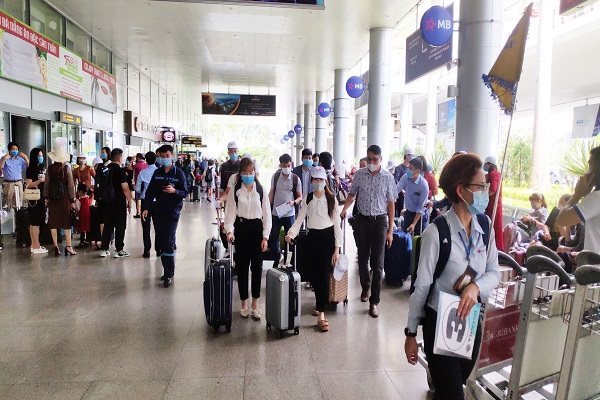 A tourism worker guides a group of tourists at the Danang International Airport earlier this year. The Danang City government will have a preferential policy for tourism workers - PHOTO: NHAN TAM
DANANG - The Danang City government will have a preferential policy for tourism workers who want to borrow money, up to a maximum of VND100 million, to overcome difficulties.
By late last year, 38,717 of 50,963 tourism workers were laid off or unemployed since the Covid-19 pandemic broke out in Vietnam in 2020.
From the beginning of 2021, the tourism industry showed signs of a recovery. Workers began to return to work. However, the pandemic broke out again in late April 2021 in Danang. More than 11,802 out of 24,248 employees in the tourism industry have been laid off, according to the latest statistics provided by the Danang Department of Tourism.
To help eliminate the difficulties plaguing workers, the Danang Tourism Promotion Fund has organized meetings with the Social Policy Bank in Danang, the Danang Tourism Association as well as corporate members, the Department of Finance and other related agencies to discuss solutions.
Reportedly, the Department of Finance has issued a document on a consultation on the loan proposal for tourism workers who need to borrow money with a maximum loan worth VND100 million and an interest rate of 7.92%.
"We are now calculating the demands of workers in the industry till June 22, 2021," said Dang Viet Dung, honorable chairman of the fund.
Speaking to The Saigon Times, Nguyen Xuan Binh, Deputy director of the Danang Tourism Department, confirmed this information, saying that related departments have been revising regulations to report them to the municipal city's leaders for a final approval.
"The 4th outbreak of Covid-19 has severely affected the city's tourism industry. Tourism and service businesses had to shut down or operate perfunctorily and lay off workers. Besides, many workers have had to actively switch to other jobs to earn a living," said Binh. "Therefore, this can be considered as one of the humane policies of the city government to help tourism workers overcome this difficult period."
In addition, according to Binh, the Department of Tourism will continue to coordinate with the Danang Tourism Association and other relevant units to advise the city on other solutions to better support businesses and their employees.
The department provided a list of tourism workers to the Center for Disease Control in Danang for vaccination and to prepare them for training courses, paving the way for normal operations again once the pandemic is controlled.
TAG: