Binh Duong imposes social distancing on three wards in Thuan An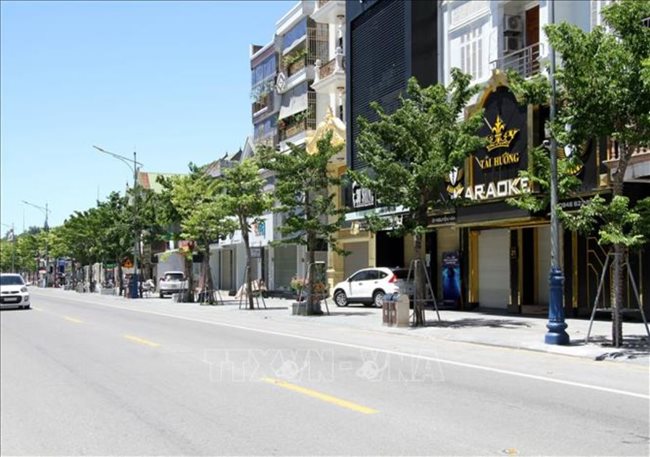 Shops and stores in Vinh City in Nghe An Province shut down to prevent the spread of Covid-19 - PHOTO: VNA
HCMC - The government of Thuan An City in Binh Duong Province today, June 19, ordered social distancing in three wards in line with the Prime Minister's Directive 16 from midnight on the same day as some Covid-19 infections have been detected.
The entire Binh Chuan Ward, Quarter 1B in An Phu Ward and Dong An 1, 2 and 3 and Dong Ba quarters in Binh Hoa Ward have begun implementing the social distancing order until further notice.
Directive 16 requires people to refrain from going out except to buy food, medicines and other necessities, and prohibits the gathering of more than two people outside offices, schools and hospitals.
Production factories and essential goods suppliers can remain operational, but must strictly comply with Covid-19 safety measures, the local media reported.
In another development, the Nghe An Province government on June 18 decided to begin social distancing in the entire Vinh City in line with Directive 16 from today to curb the spread of Covid-19.
In the current fourth wave of the coronavirus, which began on April 27, the province reported 20 Covid-19 infections, with many of them having unknown sources of transmission.
Nghe An Province has seen five chains of infections from Huong Son District in Ha Tinh Province, Hung Dung Ward in Vinh City, Minh Chau Commune in Dien Chau District, the Nghe An Psychiatric Hospital and Bac Giang Province.
Besides, the province conducted quick tests for the residents of Vinh City last night, while asking the competent forces to disinfect many parts of the city.
Among the 94 new locally transmitted cases reported in eight cities and provinces this morning, Binh Duong Province accounted for 12 cases, while Nghe An Province had 13 infections.
TAG: