Coronavirus spreads silently in community: HCDC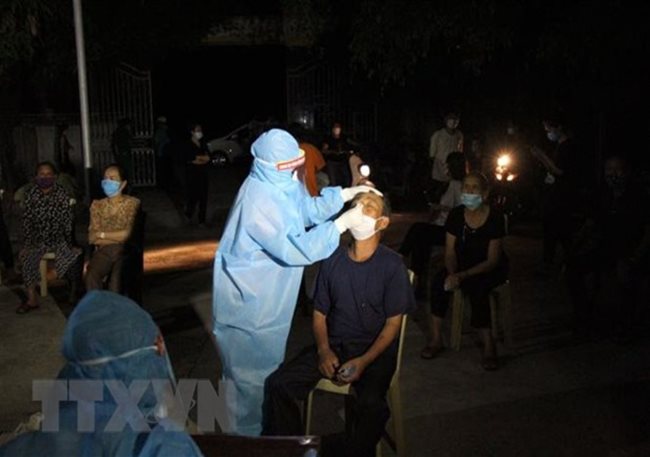 A man has his sample taken for Covid-19 testing. The coronavirus is spreading silently in the community - PHOTO: VNA
HCMC - The coronavirus has been silently spreading in the community, with HCMC reporting new Covid-19 infections with unknown sources of transmission daily through its Covid-19 screening and testing programs, the HCMC Center for Disease Control (HCDC) said on June 17.
Residents should regard those who are in close contact with them as virus spreaders and strictly follow anti-virus protocols.
Before getting the Covid-19 vaccine, residents should avoid close contact with each other as the solution is considered as a key weapon to prevent the spread of the virus.
This is why the city is practicing social distancing and asking residents to adopt Covid-19 safety regulations, including wearing of masks and washing of hands, said HCDC.
If the coronavirus spreads to a person who does not have close contact with someone else, the transmission will break down, HCDC stated.
Besides, HCDC said that if the social distancing order in line with the Prime Minister's Directive 15 is not followed effectively, sooner or later, a stricter order will be adopted, which will heavily affect the economic growth of the city and the country.
As such, the municipal center called on residents to avoid close contact and gatherings, stop holding parties and adapt to new habits of wearing face masks, keeping a safe physical distancing and washing hands.
Between April 27 and June 17, HCMC reported 1,197 locally-infected Covid-19 cases, making it the third biggest coronavirus hotspot in Vietnam, after Bac Giang and Bac Ninh, the local media reported.
The HCMC Center for Disease Control said that after bringing the Revival Ekklesia Mission infection cluster under control, the city had detected six new chains of infections.
TAG: