Nearly one million Covid-19 vaccine doses from Japan arrive in Vietnam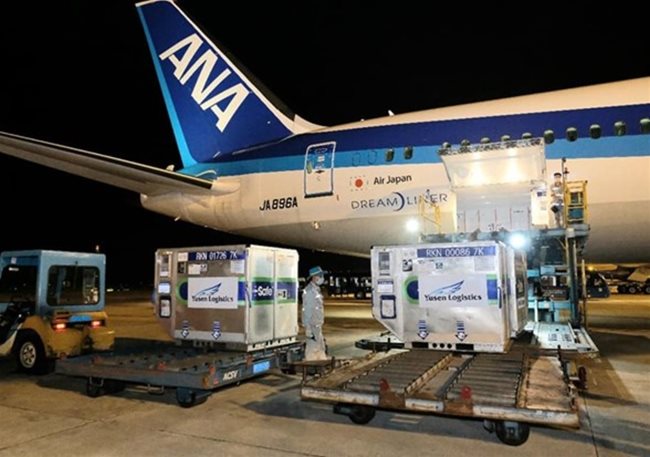 Nearly one million Vaxzevria Intramuscular Injection vaccine doses donated by Japan arrived in Vietnam late Wednesday - PHOTO: VNA
HCMC - A shipment of 966,320 Covid-19 vaccine doses provided by Japan arrived at the Noi Bai International Airport in Hanoi last night, June 16.
Early this morning, the vaccines were transported to HCMC on the national flag carrier Vietnam Airlines' Flight VN207. They will be given to prioritized groups in the city, which is currently one of the country's biggest Covid-19 hotspots.
The vaccine is the Vaxzevria Intramuscular Injection, also known as the Covid-19 Vaccine AstraZeneca Injection, an adenovirus-based vaccine with new coronavirus spike protein genetic material co-developed by the University of Oxford and the UK-based biotechnology company Vaccitech.
Vaxzevria is for intramuscular injection only, preferably in the muscle of the upper arm. The Vaxzevria vaccination course consists of two separate doses of 0.5 ml each. The second dose should be administered between four and 12 weeks after the first dose.
The shipment was transported to Vietnam on Nippon Airways' Flight NH897, which departed from the Tokyo-based Narita International Airport at 6:45 p.m. and arrived at the Noi Bai International Airport at around 10 p.m.
The vaccines are stored inside containers produced by the U.S. company Casfe, which allow temperature adjustments during transportation.
Present at the airport to receive the vaccines, Minister of Health Nguyen Thanh Long said Vietnam is the first country in Southeast Asia to receive Covid-19 vaccines from Japan.
"Vietnam is committed to using the vaccines in the most effective and quick manner," he added.
Yamada Takio, Ambassador of Japan to Vietnam, emphasized that Japan wishes to cooperate with the international community, especially Vietnam, to overcome the Covid-19 pandemic together.
"Keep fighting. Vietnam will beat the pandemic," the ambassador said at the vaccine reception ceremony.
With this shipment of Covid-19 vaccines, Vietnam now has nearly four million doses. As of this morning, the country has given over 1.77 million Covid-19 vaccine doses to the people. Of them, 72,325 have received two doses.
TAG: