Danang Lung Hospital discharges five recovered Covid-19 patients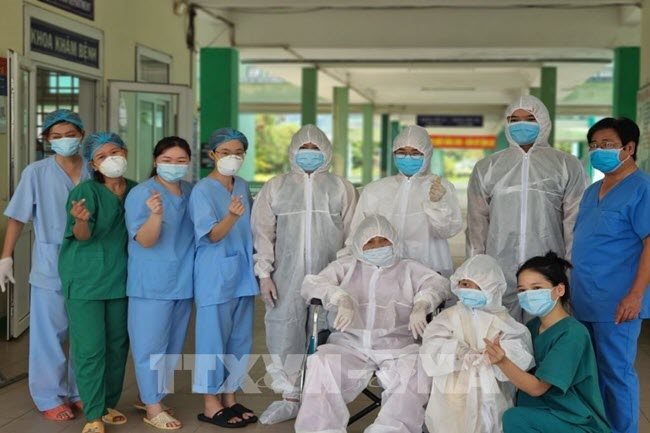 Medical workers of the Danang Lung Hospital and the recovered Covid-19 patients pose for a group photo – PHOTO: VNA
HCMC – The Danang Lung Hospital in Danang City discharged five recovered Covid-19 patients this morning, June 15, including an old woman who was in a severe condition and had to rely on a ventilator.
These five patients, all residing in this central city, tested negative for the coronavirus over three times before being declared free of the disease. After leaving the hospital, they will continue to self-quarantine at home for another 14 days as required by the Ministry of Health, Bnews reported.
The old woman was admitted to the hospital on May 7. At the time, she was conscious and showed no symptoms of the respiratory disease, according to Le Thanh Phuc, director of the hospital.
On May 17, the 81-year-old woman experienced fatigue, chest pain, shortness of breath and loss of appetite. Her condition worsened and she was moved to the intensive care unit for further treatment.
Two days later, the woman was put on a ventilator and received continuous dialysis. By May 22, she was weaned off the ventilator. She became conscious and stopped the dialysis therapy on May 24.
From June 8 to date, her health condition improved. She no longer suffers from symptoms such as fever and shortness of breath. She has also tested negative for the virus four times.
As for the hospital, it is treating 11 active Covid-19 cases.
TAG: