Nhan Dan Newspaper receives congratulations on Revolutionary Press Day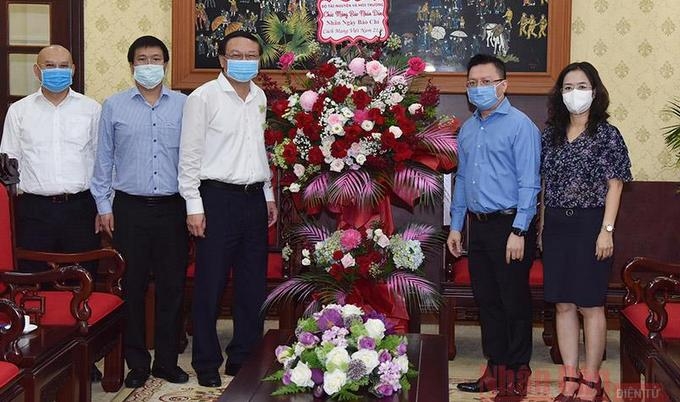 The delegation of Ministry of Natural Resources and Environment congratulates Nhan Dan Newspaper. (Photo: NDO)   
NDO – A delegation of the Ministry of Natural Resources and Environment (MoNRE), led by Deputy Minister Le Cong Thanh, visited Nhan Dan (People's) Newspaper on June 14, offering congratulations on the 96th anniversary of the Vietnam Revolutionary Press Day (June 21).
Highly valuing the activities of Nhan Dan Newspaper, Deputy Minister Thanh noted that the newspaper has closely promptly and comprehensively propagated information related to the field of natural resources and environment, significantly contributing to the sector's development.
He also expressed his hope that the newspaper would continue to closely cooperate with the MoNRE to promote the propaganda work of the sector's activities.
On behalf of Nhan Dan staff, member of the Party Central Committee and Editor-in-chief of Nhan Dan Newspaper Le Quoc Minh gave his sincere thanks to the MoNRE's leaders and staff for their concerns and sentiments for the newspaper.
The Editor-in-chief stated that Nhan Dan Newspaper has upheld its role as the mouthpieces of the Party and closely coordination with the MoNRE in carrying out the prompt propaganda of issues of public interest that have been managed by the ministry.
He expressed his belief that the two agencies would enhance their cooperation to provide readers with important information.
* On the same day, the Vietnam Academy of Science and Technology visited, presented flowers and congratulated the Party newspaper on the occasion of Vietnam's Revolutionary Press Day.
TAG: