81 domestic Covid-19 cases reported in five localities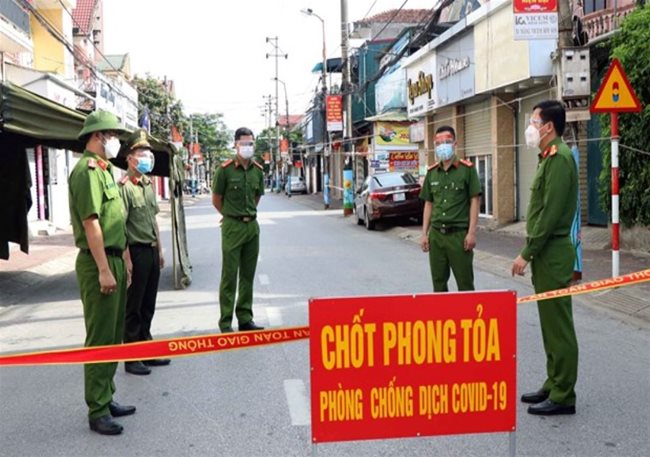 Police officers on duty at a coronavirus checkpoint. The Ministry of Health this afternoon reported 82 new Covid-19 cases, including one imported case and 81 domestic ones - PHOTO: VNA
HCMC - Among 81 new locally-transmitted Covid-19 cases reported in Bac Giang, HCMC, Bac Ninh, Hanoi and Ha Tinh this afternoon, June 11, as many as 77 infections were found at quarantine centers or areas under lockdown, according to the Ministry of Health.
Bac Giang Province accounted for the most, 45, followed by HCMC with 18, Bac Ninh with nine, Hanoi with five and Ha Tinh with four.
The ministry also reported one imported Covid-19 case in Tay Ninh Province.
Since April 27, the country has tallied 6,717 locally-infected cases in 39 provinces and cities.
In related news, speaking at an anti-Covid-19 meeting today, Director of the HCMC Department of Health Nguyen Tan Binh said that the clusters related to the Revival Ekklesia Mission in Go Vap District had been put under control, while the infection sources of four other outbreaks remained unknown.
The four coronavirus clusters were discovered at a manufacturing facility in Hoc Mon District, the Ehome apartment building in Binh Tan District, Street 11 in Thu Duc City and Tan Thoi 2 Hamlet in Hoc Mon District.
The leader of the municipal department said that as these clusters were found during the social distancing period, the risk of infection was not high.
Addressing the meeting, chairman of Go Vap District Nguyen Tri Dung said that after 10 days of social distancing in line with the prime minister's Directive 16, residents effectively complied with Covid-19 safety protocols and rarely ventured out for non-essential reasons.
The Covid-19 situation in the district is expected to get better in the remaining four days of the social distancing period, so he proposed easing social distancing from June 15, explaining that the residents have faced many difficulties during this period.
Meanwhile, chairman of District 12 Le Truong Hai Hieu proposed continuing imposing social distancing on the district in line with Directive 15.
In addition, the leader of Tan Binh District proposed extending social distancing in the city in line with Directive 15 to June 21, the local media reported.
TAG: