CDC lists Vietnam among lowest risk countries to coronavirus
As one of the least vulnerable to Covid-19 countries, Vietnam is considered a safe place for traveling during coronavirus time.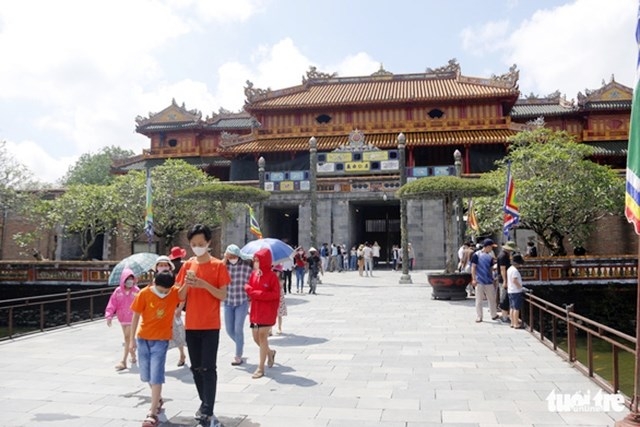 Visitors in Hue all wear a face mask during their travel (Photo: Tuoi Tre)
Vietnam has been named among the lowest risk, or more specifically, a level 4 country with low incidence rates of Covid-19 or low cases count by the US Centers for Disease Control and Prevention (CDC). The country is, therefore, deemed one of the safest travel destinations worldwide during the pandemic time.
In its newly revised Covid-19 Travel Health Notice guidelines, CDC categories five threat levels determined by the case counts in a given country. Levels 1 to 4 are respectively designated as very high risk, high, medium, very low. Level 5 is given to "unassessed countries."
Other countries in the level 4 category include Laos, Singapore, China, South Korea, Australia, New Zealand, Dominica.
Experts from CDC recommend that holidaymakers to countries in the level 4 category must ensure they are fully vaccinated against coronavirus. In addition, compliance to host countries' anti-pandemic protocols is a must. In Vietnam, in particular, all visitors are required to wear a facemask and remained at least 2 meters socially distanced from others.
CDC recommendations at other levels
The CDC recommends avoiding travel to countries at level 4, the highest threat level, with more than 500 cases per 100,000 residents in the last 28 days. Other levels 4 countries include Brazil, India, and Iraq, as reported by CNN.
For countries at level 3, including Mexico, Russia, and Iran, the CDC recommends against nonessential travel for those who are unvaccinated. This is because these countries are currently reporting 100 to 500 cases per 100,000 residents.
At level 2, the agency recommends that unvaccinated travelers at severe risk for severe illness from Covid-19 avoid visiting. Like Finland, Cambodia, and Kenya, these nations are currently reporting 50 to 99 cases per 100,000.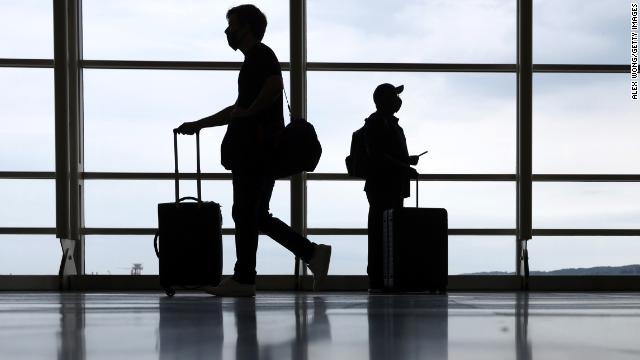 (Photo: CNN)
In May, a website launched by InterNations ranked Vietnam among the top 10 best destinations for ex-pats to live and work. The article produced by Euronews states that Vietnam represents an ideal spot for ex-pats looking to save money while enjoying a nice lifestyle.
Additionally, the respondents shared how they have been experiencing the COVID-19 pandemic and how it has impacted their lives. Vietnam also does well in the Working Abroad Index (9th), with the vast majority of ex-pats (86%) expressing overall job satisfaction.
"It's also home to one of the best healthcare systems in the world and an obsession with Hello Kitty; we're talking themed restaurants, cartoon-clad airplanes, and even branded beer," Euronews noted.
Rounding off the top 10 best destinations are Canada, Ecuador, Australia, New Zealand, Portugal, Malaysia, Costa Rica, and Mexico.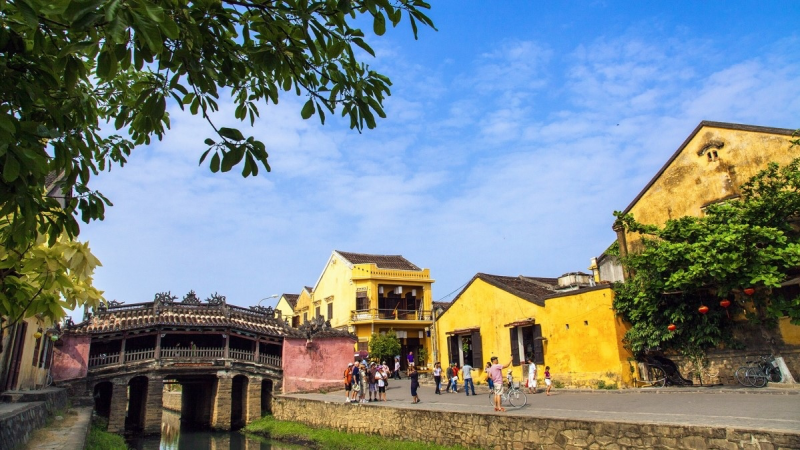 Vietnam's Hoi An ancient town attractive to foreign tourists
The country also wins high satisfaction levels in ex-pats regarding Covid-19 communication.
As against 66 percent globally, 79 percent of ex-pats in Vietnam said they are satisfied with the official information they receive about Covid and the protocol to prevent its spread.
To stay up to date, most surveyed respondents said, they follow news sources from forums and sites run and contributed by ex-pats, the international media (45 percent), social media (43 percent), and official government channels (39 percent),
Close to one in three ex-pats in Vietnam have decided not to move back home shortly due to the pandemic versus 18 percent globally.
New Zealand, Taiwan, and Qatar were first, second, and third, while Indonesia, Egypt, and Brazil brought up the rear.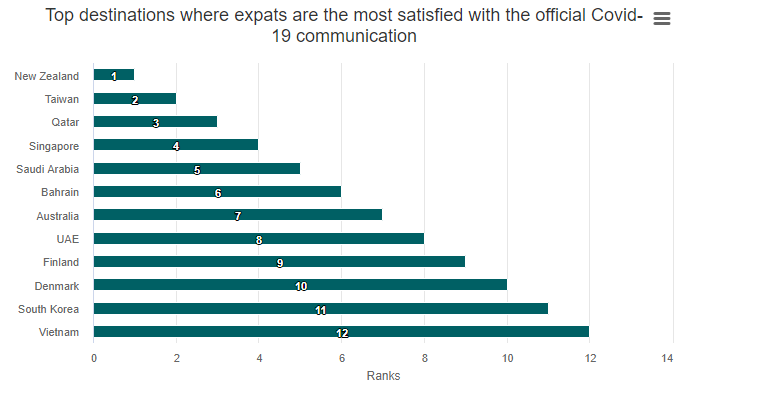 (Chart: VNE)
The fourth wave kicking off on April 27, considered the most dangerous outbreak in Vietnam yet, has started to abate. New infections in clusters and localities across the country are reportedly slowing down, though certain places may still expect scattered cases.
The National Steering Committee for Covid-19 Prevention and Control predicts Vietnam stands a high chance of suppressing the recent outbreak in June if all provinces and cities well manage the virus's spread.
The novel coronavirus, which stemmed from Wuhan city, China's Hubei province, has spread to 220 countries and territories. In Vietnam, it has affected 9,635 patients, claiming 55 lives. While the two northern provinces of Bac Giang and Bac Ninh are struggling with growing daily tally, central Vietnam is the least affected of the three regions.
In the fourth wave alone, the nationwide tally has topped 6,537 cases, 19 deaths.
Jasmine Le
TAG: