60 more Covid-19 cases reported in Vietnam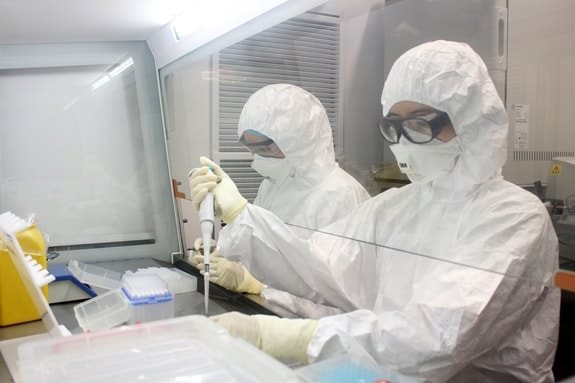 Two medical workers handle test tubes containing samples for Covid-19 tests. Vietnam reported 60 new Covid-19 cases on Wednesday evening - PHOTO: MINISTRY OF HEALTH
HCMC - The Ministry of Health confirmed 60 new Covid-19 cases, including 57 domestic infections and three imported ones this evening, June 9, sending the country's Covid-19 tally to 9,565.
Among the local transmissions, 20 were detected in HCMC, 19 in Bac Giang, 12 in Bac Ninh, five in Hanoi and one in Lang Son.
The three imported cases were reported in Tay Ninh. They returned to Vietnam through the province's Moc Bai International Border Gate on June 7.
With 407 cases in total, today saw the second highest number of new Covid-19 cases recorded in a single day during the fourth Covid-19 wave, following 444 cases recorded on May 25.
The country has reported 6,385 locally transmitted Covid-19 cases in the fourth Covid-19 wave since April 27.
Up to now, 3,636 Covid-19 patients have made a full recovery, including 87 people discharged from the hospital today.
The third shipment of Covid-19 vaccines provided by the Covax Facility is expected to arrive in Vietnam next month, UNICEF representative in Vietnam Rana Flowers said during a meeting with Vietnamese Minister of Health Nguyen Thanh Long on June 9.
Up to now, the Covax Facility has provided Vietnam with over 2.5 million doses of the AstraZeneca Covid-19 vaccine, including more than 800,000 doses in the first shipment and some 1.7 million doses in the second shipment.
A survey of UNICEF showed that 67% of respondents in Vietnam are willing to be vaccinated against Covid-19.
"We are committed to giving the Covid-19 vaccines to the citizens in an effective and fair manner. The Ministry of Health is trying to access Covid-19 vaccine sources so that 70% of the population will be vaccinated against Covid-19 by the end of this year. However, shipments of the Covid-19 vaccines to Vietnam are moving at a snail's pace," Long said.
Besides Covid-19 vaccines, thanks to financial support from Australia, 1,910 high-capacity refrigerators to store vaccines will be delivered to Vietnam late next month.
UNICEF has also ordered five refrigerated trucks for the transportation of vaccines and they will arrive in Vietnam in August and September, along with some 5 million syringes to facilitate vaccination.
TAG: