Companies told to follow guidelines as Covid-19 cases crop up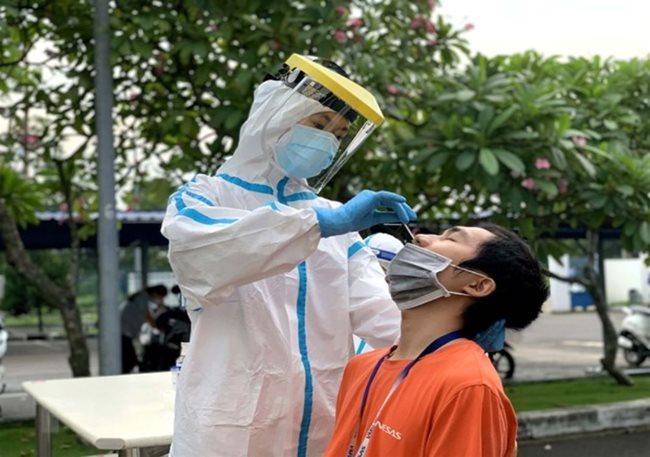 A medical worker takes samples from a resident for Covid-19 testing. The Ministry of Health has instructed businesses on protocols for when a business location or industrial park discovers a case of Covid-19 - PHOTO: VNA
HCMC - The Ministry of Health has instructed businesses on protocols for when a business location or industrial park discovers a case of Covid-19.
In the "Guidelines for anti-pandemic measures when there are cases of Covid-19 at production, business and industrial zones" issued on June 5, the ministry prioritizes on-site quarantine, limits workers from traveling to places unaffected by the pandemic and offers three hypothetical situations after receiving the SARS-CoV-2 test results as well as handling measures.
When a case of Covid-19 is detected at one production and business facility or an industrial zone, businesses are required to immediately activate anti-pandemic measures and temporarily evacuate the entire area or working department with infected cases (F0).
Businesses will proceed to quarantine F0 cases on site and notify medical facilities to carry out further isolation, treatment, zoning and disinfection.
After that, businesses must conduct a thorough review of all workers according to the management list; urgently trace close contacts (F1), those exposed to F1 (F2); implement concentrated quarantine for F1 and home isolation for F2.
Prior to quarantining F1 cases, groups must be assigned by working positions along with risks of exposure to quarantine in the same area. Lists must be made comprising workers that are F1, F2 cases along with those not present at the time of lockdown and then sent to the health department or corresponding district health center to be handled according to regulations.
The ministry's general principle of quarantining is to prioritize on-site isolation and limit workers from traveling to areas unaffected by the pandemic, except for production and business facilities or industrial zones without enough space for concentrated quarantine.
Three hypothetical situations after receiving the SARS-CoV-2 test results are as follows: the detection of cases in most workshops, production lines, teams, areas or work sites; the detection of cases in the same workshop, production lines, teams, areas or work sites; all samples come back negative.
In case of the first two situations, F0 cases must be quarantined on site and medical facilities must be notified immediately for proper quarantine, treatment, zoning and disinfection as per regulations. Next, F1, F2 cases will be traced urgently for regulatory quarantine.
Production and business facilities and industrial zones will be on lockdown mode in case of the first hypothetical situation. Regarding the second situation, all workers within the working area of the infected cases are considered F1 and will require immediate isolation.
All employees are required to file mandatory medical declarations to local authorities and corresponding medical centers.
Authorized personnel will notify the local authorities and the Steering Committee for Covid-19 prevention and control at all levels to conduct urgent investigations into related cases and inform related agencies and neigboring industrial zones, production and business facilities.
For the third hypothetical situation, periodic screening tests are necessary to promptly detect suspected infected cases. Furthermore, businesses will conduct a thorough inspection of workers in order of management to continue monitoring and supervising.
Before production is resumed, businesses must be inspected and assessed on anti-pandemic regulations, equipment, responsive protocols, production plans and the scale regulated by local authorities in case an infected case is detected. Everything must be approved by authoritized personnel so businesses can resume production.
Businesses are only allowed to employ workers confirmed by authorities of posing no risk of infection 28 days before the working date with immunization proof 14 days prior.
Workers' accomodation centers will have to ensure safety conditions as per health authorities' regulations. Medical centers will also require businesses to reduce the labor size by 25-50% for businesses with more than 500 workers based on the pandemic situation along with other requirements.
TAG: