World News in Brief: June 7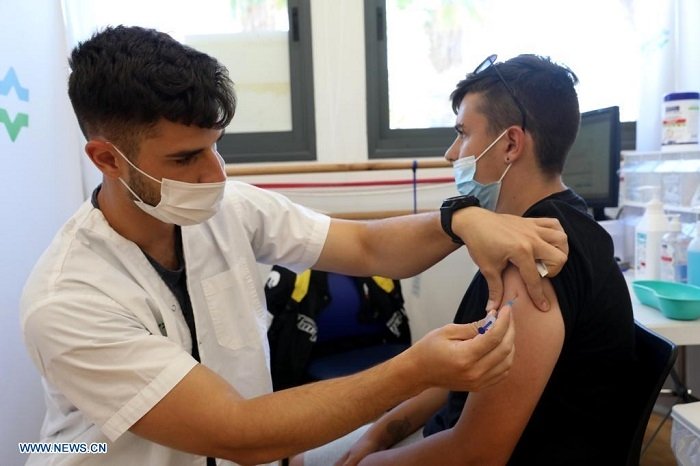 An Israeli teenager receives a vaccine against the COVID-19 at a healthcare center in central Israeli city of Petah Tikva on June 6, 2021. Israel has started vaccinating teenagers aged between 12 and 15 against the novel coronavirus, health authorities said on Sunday. (Photo: Xinhua)   
A collision between two passenger trains left at least 36 people dead and over 70 others injured on early Monday morning in Ghotki district of Pakistan's southern Sindh province, officials told Xinhua. Following the accident, locals and rescue teams rushed to the site and pulled out the bodies and injured from the coaches and provided them with first aid.
* China believes the Group of 20 leading economies should take a practical approach towards setting any global minimum corporate tax and demonstrate inclusiveness, the foreign ministry said on Monday.
* Russian President Vladimir Putin signed a law on Monday that formalises Russia's exit from the Open Skies treaty, a pact that allows unarmed surveillance flights over member countries.
* Progress is being made towards a deal on an intellectual property waiver for vaccines at the World Trade Organization, US Trade Representative Katherine Tai has said.
* At least 70 percent of the target population in China is expected to be vaccinated against COVID-19 by the end of this year, according to an official of the National Health Commission (NHC).
* India reported 114,460 new coronavirus infections on Sunday, the lowest in two months, while the death toll increased by 2,677, as parts of the country prepared to ease movement restrictions.
* Laos reported five new cases of COVID-19 on Monday as community spread showed a downward trend in the country.
* The Philippines will open up its vaccination drive this week to include around 35 million people working outside their homes, such as public transport staff, in a bid to help curb COVID-19 transmission and to open up the economy, officials said.
* Thailand kicked off a long-awaited mass vaccination campaign as the country battles its third and worst wave of the pandemic.
* Morocco will reopen its airports and ports to international passenger traffic from June 15, both for its citizens and foreign nationals.
* Asian shares turned sluggish on Monday as relief over a benign US jobs report was chilled by caution ahead of key inflation data.
* S&P Global Ratings upgraded its outlook on Australia's coveted "AAA" sovereign rating to "stable" from "negative", citing the country's "swift economic recovery" from the pandemic driven recession.
* Switzerland will make sure it remains attractive to business, the government said, after Group of Seven (G7) nations reached a landmark deal to reduce the incentive of multinational companies to shift profits to low-tax offshore havens.
* Mexico began midterm elections on Sunday with the opening of about 161,000 polling stations throughout the country, with about 90 million people eligible to vote to fill more than 20,000 public positions.
* Peru opened on Sunday morning more than 12,000 voting centers for the second round of presidential elections. A total of 25,287,954 Peruvians are eligible to vote in the election, which will decide whether Keiko Fujimori or Pedro Castillo will accede to the presidency for the period of 2021 to 2026.
* Ukraine registered on Monday the lowest daily number of new COVID-19 infections over the past 24 hours for nearly a year, the health ministry data showed. The ministry reported 535 new coronavirus cases as of June 7, the lowest since June 9, 2020, when it registered 525 cases.
* Iraqi President Barham Salih said Sunday that Iraq is working with the international community to stabilize the region by confronting terrorism and violence as common global challenges.
* Maldives Minister of Tourism Abdulla Mausoom has said that the heavy losses sustained by the country's tourism sector due to the COVID-19 pandemic can be recovered by the end of the year, local media reported in Male on Monday.
* Senegal could begin producing COVID-19 vaccines next year under an agreement with Belgian biotech group Univercells aimed at boosting Africa's drug-manufacturing ambitions.
* Heavy rain has lashed Sri Lanka triggering floods and landslides that have killed at least 17 people and forced tens of thousands from their homes, officials said on Monday.
Xinhua,Reuters
TAG: