Covid-19 quarantine centers in HCMC overloaded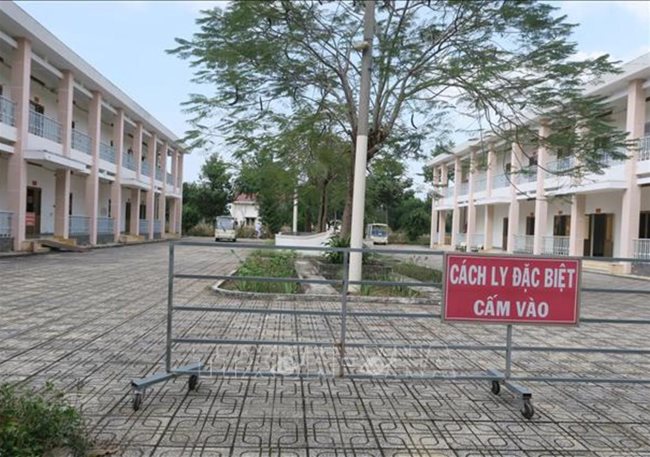 A quarantine center in Cu Chi District, HCMC. Many Covid-19 quarantine centers in the city have become overloaded - PHOTO: VNA
HCMC - Due to an upsurge in the number of new Covid-19 cases and related people, many quarantine centers in HCMC, which is currently one of the country's biggest Covid-19 hotspots, are overloaded.
The city is quarantining more than 21,400 people, including 7,770 F1 cases at quarantine centers, while F2 and F3 cases are required to self-isolate at home.
If F1 cases become F0, or the source of transmission, their F2 will become F1 and be sent to quarantine centers. In case F1 cases test negative for Covid-19, the F2 and F3 cases will not be subject to quarantine.
A leader of the Medical Center of Binh Thanh District said the district has six quarantine centers with 582 beds in total. They are quarantining 502 people and are not able to receive more although there are still available beds because some F1 cases have to stay in separate rooms to prevent cross infection.
To increase quarantine capacity, Tan Phu District plans to use cultural centers and children's cultural houses as quarantine centers.
The HCMC government has asked military barracks to prepare more quarantine centers for the city in case its Covid-19 tally exceeds 3,000.
Some experts suggested that the city quarantine low-risk F1 cases at home to reduce the strain on quarantine centers.
However, Tan Phu District chairman Pham Minh Man said in accordance with prevailing regulations, F1 cases must be quarantined at quarantine centers to ensure safety.
Phan Thanh Tam, director of the HCMC Center for Disease Control, said in the latest outbreak, many F1 cases have tested positive for Covid-19 because the new virus variants are stronger and spread quicker.
F1 cases that have the same epidemiological conditions and quarantine period can be quarantined in the same area at the quarantine centers. Meanwhile, those with different epidemiological conditions and quarantine periods must be quarantined in separate areas.
According to Tam, a number of F2 cases have also tested positive for Covid-19. Therefore, F2 cases, who are allowed to self-isolate at home instead of quarantine centers, must strictly comply with the Ministry of Health's regulations.
In areas under lockdown, citizens must keep a safe physical distance from each other, stay at home and comply with preventive measures such as wearing of face masks and using hand sanitizers regularly.
TAG: