60 more new locally-infected Covid-19 cases reported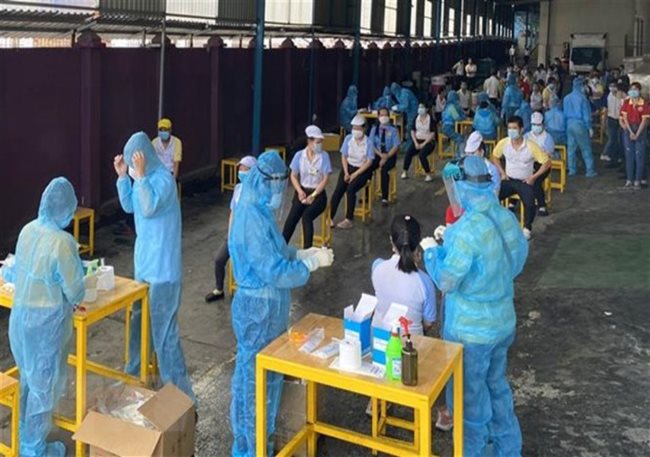 Medical workers take samples from workers in HCMC. The Ministry of Health has confirmed 65 new Covid-19 cases, including five imported cases in Tay Ninh and Kien Giang and 60 domestic infections - PHOTO: VNA
HCMC - The Ministry of Health has confirmed 65 new Covid-19 cases, including five imported cases in Tay Ninh and Kien Giang and 60 domestic infections, taking the day's total number of Covid-19 cases to 206.
Among the latest locally-infected cases, Bac Giang Province continued to account for the most, 31, followed by Bac Ninh with 18 and HCMC 11.
Since the latest wave of coronavirus emerged on April 27, the country has detected 5,561 domestic Covid-19 cases, the local media reported.
The ministry said that 58 more Covid-19 patients had made a full recovery today, June 6, raising the number of recoveries to 3,368.
In related news, the Government Committee for Religious Affairs on June 4 wrote to religious organizations and places of worship nationwide asking them to suspend religious events and activities that gather many people to prevent the spread of Covid-19.
Leaders and representatives of religious organizations and places of worship must bear responsibility if their violations on Covid-19 safety protocols cause Covid-19 community transmission, according to the Government committee.
The decision was made as the Covid-19 pandemic remains complicated, while new Covid-19 infections linked to the Revival Ekklesia Mission cluster in HCMC's Go Vap District remain high, said the Government committee.
The outbreak from the cluster has spread to over 20 districts in HCMC and eight other provinces and cities.
Go Vap District has worked with competent forces in Tan Binh, Phu Nhuan and Binh Thanh districts to set up 26 more coronavirus checkpoints to tighten control over people and vehicles to and from Go Vap District.
TAG: