Vietnam's Covid-19 tally up by 83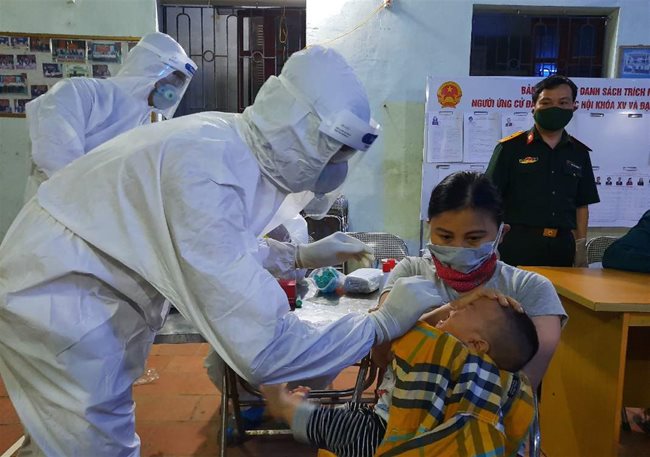 A medical worker takes samples from a child for Covid-19 tests. Vietnam's Covid-19 tally has risen to 8,541 after 83 new cases were reported on Saturday evening - PHOTO: MINISTRY OF HEALTH
HCMC - Vietnam has reported 83 new Covid-19 cases this evening, June 5, including 80 domestic infections in seven cities and provinces and three imported ones, sending its Covid-19 tally to 8,541.
Bac Giang recorded the biggest number of new infections, with 39 cases, followed by Bac Ninh with 28 cases and HCMC with six cases. Vinh Phuc, Binh Duong, and Hanoi had two new cases each, while Lang Son got one.
Among the three imported Covid-19 cases, two were reported in An Giang and one in Khanh Hoa. They returned to Vietnam between June 2 and 4.
Up to now, 3,310 Covid-19 patients in the country have fully recovered, including 68 people discharged from hospital today.
The Ministry of Health announced this afternoon that a 35-year-old Covid-19 patient in Lang Son City and a 53-year-old patient in Son La Province have died, sending the country's Covid-19 death toll to 53.
The woman in Lang Son suffered from colon cancer, which metastasized to her lungs, and underwent chemotherapy five times at K Hospital in Hanoi.
She tested positive for Covid-19 on May 17 and was taken to Duc Giang Hospital for treatment.
The patient was then transferred to the National Hospital for Tropical Diseases on May 22.
She was put on a ventilator and treated with different medicines, but responded poorly to treatment. The patient passed away on Friday night, becoming the country's 17th fatality in the latest outbreak since late April.
The woman in Son La died of pneumonia caused by Covid-19, septic shock, multi-organ dysfunction, herniated disc and systemic lupus erythematosus, according to the Health Ministry.
The patient tested positive for Covid-19 on May 5 while being treated at the National Hospital for Tropical Diseases. She did not respond to treatment and died on June 4, becoming the 18th Covid-19 fatality in the latest outbreak.
TAG: