COVID-19: 77 cases reported over 12 hours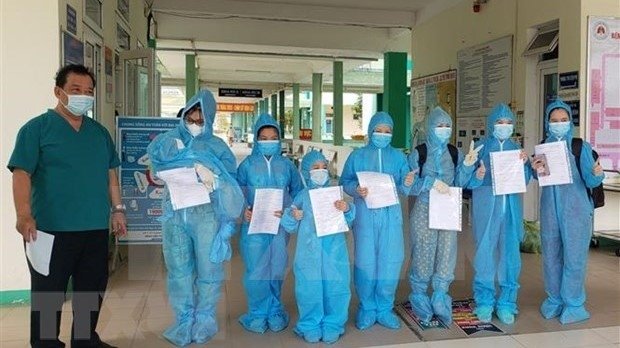 Seven COVID-19 patients are given the all-clear at Da Nang Lung Hospital (Photo: VNA)   
NDO/VNA - An additional 77 cases of COVID-19 were reported over the past 12 hours to 6am June 5, raising the national tally to 8,364, according to the Health Ministry.
Of the new cases, two returned from abroad, and 75 are locally-infected, with 45 in Bac Giang, 19 in Bac Ninh, 10 in Ho Chi Minh City and one in Ha Nam.
The number of cases recorded in the latest wave of outbreaks since April 27 rose to 5,249.
A total 3,242 patients have been given the all-clear, while the death toll rose to 51, most of whom suffering from serious underlying illnesses.
Among active patients, 213 have tested negative for the coronavirus once, 82 twice and 78 thrice.
Over 176,870 people who had close contact with COVID-19 patients or arrived from pandemic-hit areas are being quarantined across the country.
An additional 60,701 people received COVID-19 vaccine shots on June 4 while 32.401 people have received two shots. The total number of COVID-19 vaccine doses administered so far rose to more than 1.21 million.
TAG: