Vietnam adds 102 cases to Covid-19 tally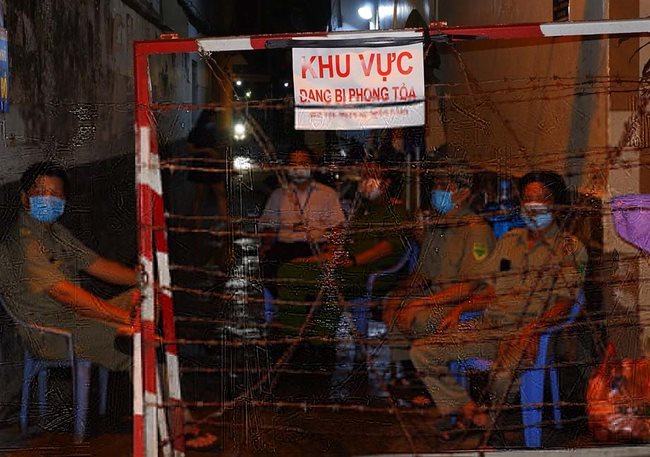 An area in HCMC's Binh Thanh District, where over 10 Covid-19 cases have been detected, is locked down to prevent the spread of the pandemic. Vietnam reported 102 new Covid-19 cases, including 19 cases linked to the Revival Ekklesia Mission in HCMC, this afternoon – PHOTO: HCMC CENTER FOR DISEASE CONTROL
HCMC – Vietnam has reported 102 new Covid-19 cases, with six of them imported, sending the country's total so far to 7,972.
The 96 locally infected cases as of this afternoon were detected in five cities and provinces, with 55 in Bac Giang, 14 in Bac Ninh, 19 in HCMC, six in Hanoi and two in Long An.
In the current fourth outbreak, which began on April 27, the country has reported 4,877 domestic infections in 37 cities and provinces.
Among six imported cases, three were reported in An Giang Province, who returned to Vietnam on June 1 and 2. Three others included one Russian and two Chinese experts arriving in HCMC on May 25 and May 9, respectively.
The 19 new cases in HCMC were linked to the Revival Ekklesia Mission cluster. Up to now, the city has taken samples from over 299,000 people and some 250 of them have tested positive for Covid-19.
HCMC is currently the fourth biggest Covid-19 hotspot in the country, with 257 domestic infections in most of its districts over the past two weeks. Among them, 248 were linked to the Revival Ekklesia Mission cluster.
The city government has locked down or imposed social distancing measures on some areas to curb the spread of the virus. Regarding Covid-19 vaccination, the city has taken delivery of 70,000 doses from the Ministry of Health.
TAG: