Vietnam sees 50 new domestic Covid-19 infections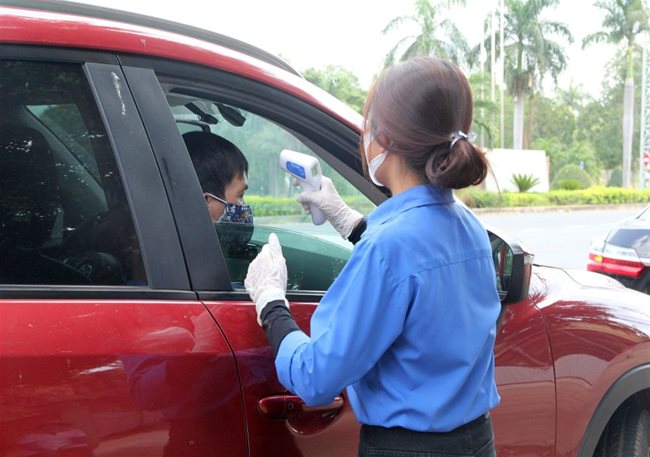 A medical worker checks the body temperature of a driver. Fifty locally-infected Covid-19 cases were reported in four provinces this afternoon, June 1 - PHOTO: TNO
HCMC - Fifty locally-infected Covid-19 cases were reported in four provinces this afternoon, June 1, taking the country's total number of domestic infections in this resurgence to 4,406.
Among the latest cases, Bac Giang Province accounted for the most, 32, Bac Ninh Province detected nine cases, while Lang Son and Long An had eight and one, respectively.
Deputy director of the Bac Ninh Department of Health Nguyen Ba Quy said today that among the active Covid-19 cases in the province, 233 patients had tested negative for Covid-19 once to three times. As many as 98 patients have made a full recovery, with 13 of them being discharged from hospitals on May 31.
In another development, HCMC Chairman Nguyen Thanh Phong told an anti-Covid-19 meeting with Deputy Prime Minister Truong Hoa Binh and Minister of Health Nguyen Thanh Long today that HCMC basically brought three out of four coronavirus clusters under control.
The three were related to a patient in Ha Nam Province, a food vendor in District 3 and a firm in District 3, the local media reported.
The city is stepping up its efforts to trace contacts linked to the Revival Ekklesia Mission and conduct Covid-19 tests on a large scale at high-risk areas. On May 31, as many as 70,000 samples were taken for testing.
To maintain production activities while fighting the Covid-19 pandemic, Deputy Minister of National Defense Vo Minh Luong proposed HCMC set up quarantine facilities for workers at export processing and industrial parks as the parks pose high risks of Covid-19 infections while playing an important role in the city's economic growth.
In related news, the Central Highlands province of Dak Nong has ordered the suspension of passenger transport services from and to several provinces and cities hit by Covid-19, including HCMC, Hanoi, Bac Giang, Bac Ninh and Lang Son, to prevent the spread of Covid-19.
Under the province's order, contract vehicles, buses and passenger coaches from/to other provinces and cities must follow Covid-19 safety measures and not use more than 50% of their seats nor carry over 20 passengers at a time.
After detecting the first Covid-19 infection in the fourth coronavirus wave, Tra Vinh Province decided to practice social distancing in line with the prime minister's Directive 15 starting from today until further notice. During its contact tracing efforts, the province found 20 direct contacts with the Covid-19 patient and 170 indirect contacts.
TAG: