Five Covid-19 patients put on ECMO machines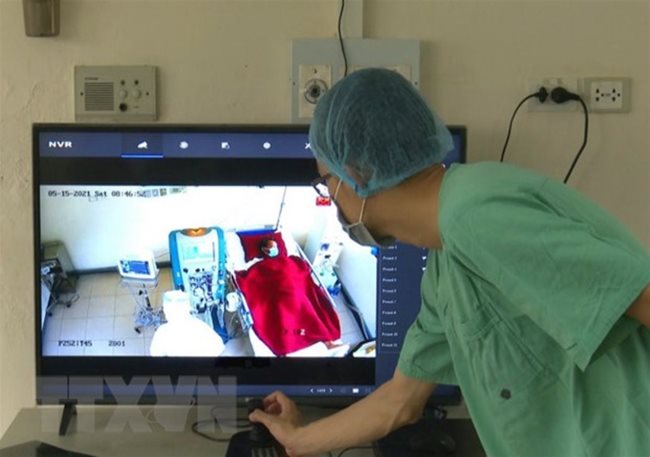 A medical worker monitors a patient through a camera. Among 28 Covid-19 patients in critical condition, five of them have been put on extracorporeal membrane oxygenation machines - PHOTO: VNA
HCMC - Among 28 Covid-19 patients in critical condition, five of them have been put on extracorporeal membrane oxygenation (ECMO) machines which allow their lungs and hearts to improve and function properly.
Four patients are receiving treatment at the National Hospital for Tropical Diseases in Hanoi City and one at the HCMC Hospital for Tropical Diseases, according to the subcommittee of treatment under the national steering committee for Covid-19 infection prevention and control.
The latest patient put on an ECMO machine is an 80-year-old man who lives in Bac Ninh Province. He tested positive for Covid-19 on May 26 and has a medical history of kidney failure and hypertension. He was transferred to the National Hospital for Tropical Diseases in Hanoi City after getting worse. He is suffering from respiratory failure and pneumonia caused by Covid-19.
As of this afternoon, May 31, some 4,000 patients had received treatment at 91 healthcare centers and hospitals nationwide, the highest ever, with half of them reported in Bac Giang Province, the local media reported.
Luong Ngoc Khue, head of the Department of Medical Examination and Treatment, said that some 80% of Covid-19 patients showed few symptoms and their lungs were not damaged. Despite the few symptoms, many patients have gotten worse fast, so the treatment would focus on them, Khue said.
TAG: