143 new Covid-19 cases detected, 49 in HCMC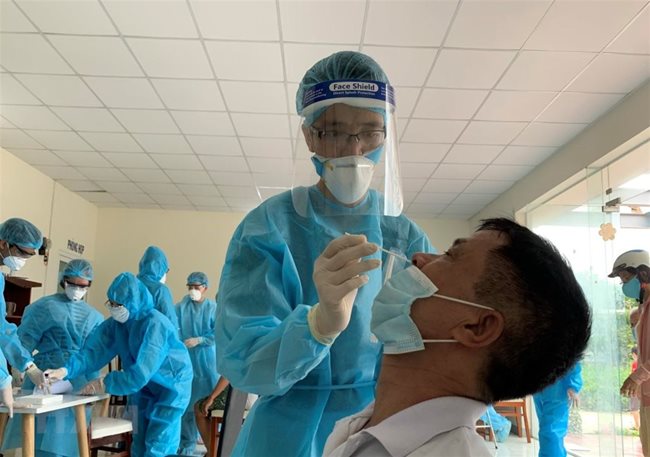 A medical worker takes samples from a resident of HCMC for Covid-19 testing. Vietnam saw 143 new Covid-19 cases this evening, May 30, including one imported case in Dong Nai Province and 142 domestic ones in five provinces and cities, with HCMC reporting the most at 49 - PHOTO: VNA
HCMC - Vietnam saw 143 new Covid-19 cases this evening, May 30, including one imported case in Dong Nai Province and 142 domestic ones in five provinces and cities, with HCMC reporting the most at 49, taking the day's total number of Covid-19 cases to 251.
Apart from the latest locally-infected cases in HCMC, which were linked to the Revival Ekklesia Mission, Bac Giang Province reported 44 domestic cases, while Bac Ninh Province had 28 cases and Hanoi City detected 18 infections. Two other cases were found at the National Hospital for Tropical Diseases and one was reported in Danang City.
Since April 27, Vietnam has confirmed 4,034 locally-infected Covid-19 cases.
Due to the surge in the number of Covid-19 infections, HCMC will conduct massive Covid-19 tests for residents in the city.
HCMC Chairman Nguyen Thanh Phong told an anti-Covid19 meeting today that medical workers should first conduct the tests on voters at the polling stations where members of the Revival Ekklesia Mission cast their votes and all workers at the city's export processing zones, industrial zones, hi-tech parks.
The city has 400 teams, including employees at the Center for Disease Control, healthcare centers and hospitals, in charge of taking samples from residents for Covid-19 testing, the local media reported.
HCMC has five hospitals specializing in treating Covid-19, including Cho Ray, Cu Chi Field Hospital, HCMC Children's Hospital and the Hospital for Tropical Diseases, with a total of over 970 beds and 42 ventilators.
The city is also planning to requisition seven dormitories at the universities and colleges in Thu Duc City and District 11 as quarantine facilities to meet the city's demand for quarantine.
In another development, Ninh Thuan Province has issued a directive suspending passenger transport services from/to HCMC starting at midnight to prevent the spread of Covid-19 as several new Covid-19 infections have been detected in HCMC.
Similarly, Can Tho City has asked cars operating on fixed routes, contract vehicles, taxis and passenger coaches to suspend their services from the city to 31 provinces and cities, including HCMC, Long An, Bac Lieu, Binh Duong and Ba Ria-Vung Tau, starting at midnight.
TAG: