HCMC to begin social distancing tomorrow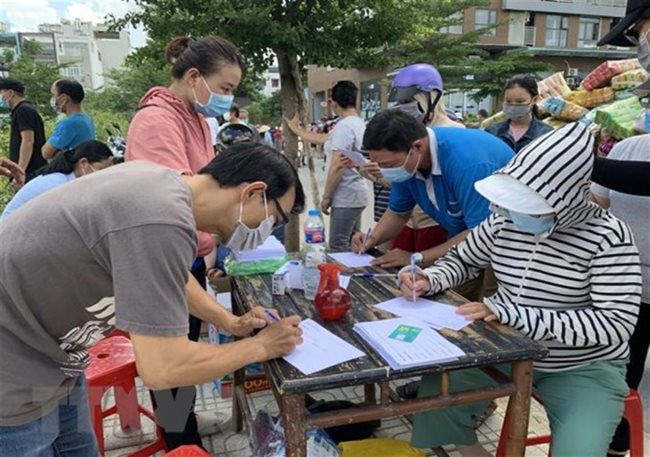 Residents of Go Vap District's Ward 15 make health declarations before having their samples taken for Covid-19 testing. HCMC Chairman Nguyen Thanh Phong has ordered the social distancing in the entire city in line with the prime minister's Directive 15 for 14 days from tomorrow - PHOTO: VNA
HCMC - HCMC Chairman Nguyen Thanh Phong has ordered the social distancing in the entire city in line with the prime minister's Directive 15 for 14 days from tomorrow, May 31.
Meanwhile, Go Vap District and Thanh Loc Ward in District 12 were told to practice social distancing in line with Directive 16, which is stricter than Directive 15.
The decision was made at an urgent meeting with Deputy Prime Minister Truong Hoa Binh today, May 30.
Speaking at the meeting, HCMC Party Secretary Nguyen Van Nen said that it was necessary to adopt such an aggressive measure due to the complicated development of Covid-19 in the city.
Competent agencies must keep calm and stay confident to successfully address the dangerous situation as the coronavirus has spread quickly, Nen said.
This morning, HCMC reported 33 more suspected Covid-19 cases linked to the Revival Ekklesia Mission in Go Vap District.
Directive 16 prohibits contact between families, between villages, between communes, between districts, between cities and between provinces, the local media reported.
The local residents are asked to refrain from going out for non-urgent and non-essential reasons. If they need to venture out for necessities and medical purposes, they must wear face masks and wash their hands regularly.
Meanwhile, Directive 15 just bans big gatherings in offices and public places.
TAG: