52 more domestic Covid-19 cases reported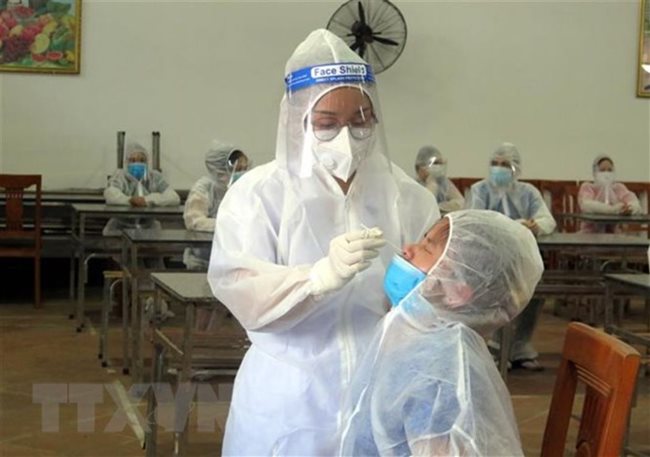 A medical worker takes samples from a resident for Covid-19 testing. The Ministry of Health has confirmed 52 new locally-infected Covid-19 cases in Bac Giang, HCMC, Bac Ninh and Haiphong - PHOTO: VNA
HCMC - The Ministry of Health has confirmed 52 new locally-infected Covid-19 cases in Bac Giang, HCMC, Bac Ninh and Haiphong, taking the country's total number of infections since April 27 to 3,836 as of this morning, May 30.
Among the latest cases, Bac Giang Province reported the highest number at 35, while HCMC had 10 domestic cases, with eight of them linked to the Revival Ekklesia Mission. Six cases were detected in Bac Ninh Province and the remaining one was in Haiphong City.
As of 6.00 a.m. today, Vietnam has reported 5,406 locally-transmitted Covid-19 cases and 1,502 imported ones. Ten out of 34 provinces and cities hit by the Covid-19 pandemic in the latest Covid-19 wave have undergone 14 consecutive days without any community-transmitted Covid-19 case.
Due to the complicated development of Covid-19, Binh Phuoc Province on May 29 issued an urgent directive suspending interprovincial passenger transport services, including coaches operating on fixed routes, contract vehicles, passenger coaches, taxis and buses, starting from today.
Passenger coaches which pass through Binh Phuoc Province must not stop in the province for pickup or drop-off activities, the local media reported.
Under the directive, vehicles used for transporting goods, food, medicines and building material remain operational, but must adopt Covid-19 safety protocols.
The province also assigned the competent forces to set up three coronavirus checkpoints on the national highways 13 and 14 and Provincial Road 741 to check body temperature and take samples of those who enter the province for testing.
Besides, the provincial government asked the industrial parks to conduct Covid-19 tests on at least 20% of workers.
In another development, Tien Giang Province ordered the suspension of passenger transport services from/to Long An Province and HCMC from May 29 until further notice to prevent the spread of Covid-19.
TAG: