Health Ministry reports 143 new Covid-19 patients, 29 in HCMC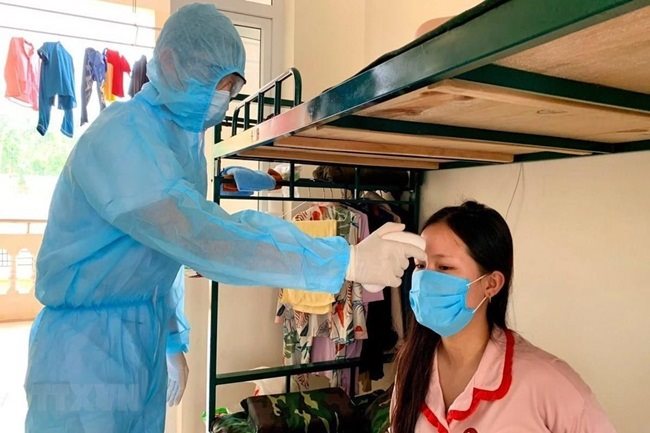 A woman in a centralized quarantine center has her body temperature checked. The Ministry of Health has reported 143 new Covid-19 patients - PHOTO: VNA
HCMC – Among the 143 fresh Covid-19 cases that the Ministry of Health reported tonight, May 29, 29 cases were detected in HCMC.
The new cases, including 141 domestic cases and two imported cases in Quang Nam, sent the country's Covid-19 tally today to 286. Bac Giang continued registering the most number of domestic cases tonight, at 67.
Other cases were found in Bac Ninh, Hanoi, Lang Son, Ha Nam, Hai Duong and Long An.
Up to 28 out of the 29 cases in HCMC were linked to the Revival Ekklesia Mission.
The Bac Giang government has issued a social distancing order for the entire Tan Yen District with more than 160,000 residents in accordance with the prime minister's Directive 15 from 6 a.m. on May 29.
Accordingly, events with more than 20 people in the districts, nonessential services and public transport have been suspended and gatherings of over 10 people in public places have been banned.
Restaurants are allowed to continue its operation but must not serve over 20 guests at a time.
In related news, a couple having medical checkups at Hoan My Sai Gon Hospital have been found to be infected with the Covid-19 variant of B.1.617.2 from India, said director of the HCMC Hospital for Tropical Diseases Nguyen Van Vinh Chau.
After two Covid-19 outbreaks emerged in HCMC, many neighboring localities have suspended passenger transport services to the city, including Long An, Tien Giang, Lam Dong and Binh Thuan.
Meanwhile, Tay Ninh and Binh Duong have tightened control over coaches from the city to the provinces.
In addition, the Quang Ngai government asked people coming to the province from HCMC to quarantine themselves at home for 21 days. Those linked to the Revival Ekklesia Mission and visiting hospitals in HCMC where Covid-19 patients have been detected must contact the Quang Ngai Center for Disease Control.
TAG: