New Covid-19 cases surge by 174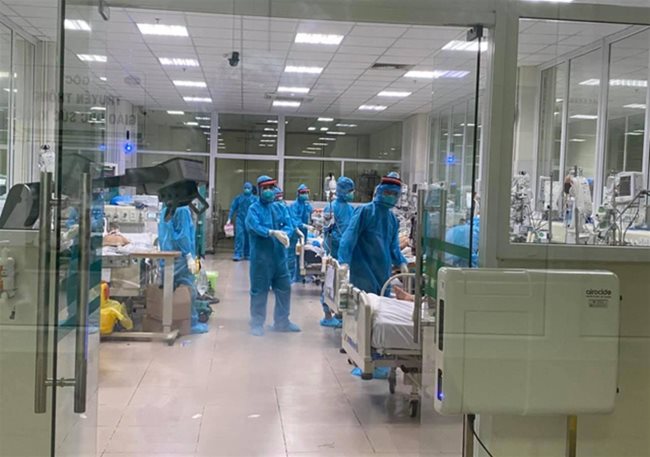 Medical workers take care of patients at a hospital for Covid-19 treatment. Vietnam reported 174 new Covid-19 cases on Friday evening - PHOTO: MINISTRY OF HEALTH
HCMC - The Ministry of Health has confirmed 174 new Covid-19 cases, including 173 domestic infections and one imported case, in six cities and provinces, sending the country's Covid-19 tally to 6,570 as of this evening, May 28.
This is the 15th straight day that Vietnam has reported over 100 Covid-19 cases in a single day.
As many as 3,508 local transmissions have been detected in 31 cities and provinces in the fourth Covid-19 wave since April 27.
Among the 173 new locally transmitted cases, 123 were reported in Bac Giang, 25 in HCMC, 20 in Bac Ninh, three in Hanoi and two in Lang Son.
The imported case is a man returning to Vietnam from Malaysia on May 6 and is undergoing treatment at Vinh Long Province Lung Hospital.
Covid-19 patients linked to the Revival Ekklesia Mission in HCMC were infected with the B.1.617 variant of Covid-19, which was first found in India, according to genetic sequencing of the patients' samples by the HCMC Hospital for Tropical Diseases.
The B.1.617 variant of Covid-19, also known as the double mutation strain, is more transmissible than other variants and can reduce the effectiveness of Covid-19 vaccines. Minister of Health Nguyen Thanh Long said this variant is dangerous because it spreads easily, including through the air in a closed space.
According to the HCMC Center for Disease Control, the city has collected samples from over 11,600 people related to these cases for Covid-19 tests. Some 6,300 of them have tested negative for Covid-19. Test results of the others will come out soon.
Besides the B.1.617 variant, the city has also detected the B.1.1.7 variant from the UK. It was found in the owner of a food stall in District 3 and one of her sons on May 20.
TAG: