Nhan Dan Newspaper donates VND200 million to Covid-19 fighting effort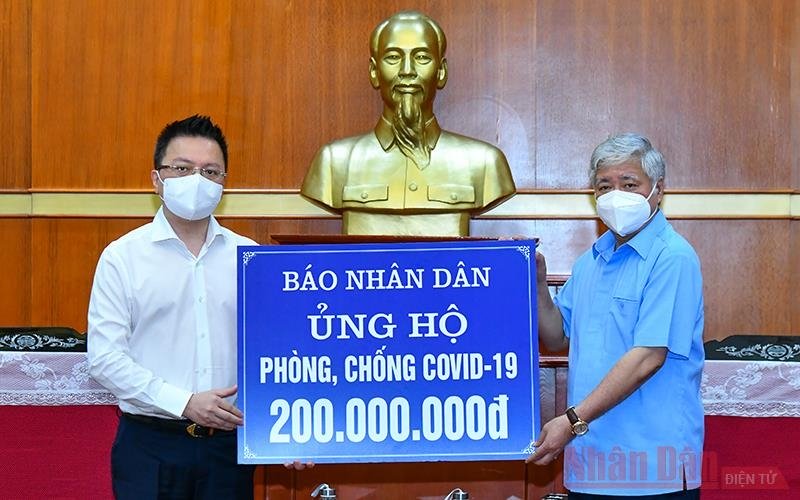 Nhan Dan Newspaper's Editor-in-chief Le Quoc Minh presents VND200 million to Vietnamese Fatherland Front President Do Van Chien. (Photo: Duy Linh)   
NDO - Nhan Dan Newspaper's Editor-in-chief Le Quoc Minh has presented a donation of VND200 million (over US$8,600) to President of Vietnamese Fatherland Front (VFF) Do Van Chien to help with the joint effort to fight Covid-19.
The donation was made in response to the VFF and President Nguyen Xuan Phuc's call for contributions to deal with the latest Covid-19 outbreak in Vietnam.
Minh said over the past year, Nhan Dan has provided an extensive coverage of the country's efforts and achievements in preventing the spread of Covid-19 as well as honouring frontline forces in such efforts.
In addition to reports and other journalistic works, the newspaper has also raised VND200 million, donated by its staff members, to join hands with the Party and State in containing the pandemic.
For his part, VFF President Do Van Chien expressed his sincere thanks to the Editor-in-chief and staff members of Nhan Dan for their donations.
He stated all the money received will be spent effectively, of which the majority will be transferred to the vaccine fund while the rest will be used to support frontline workers and low-income and disadvantaged people.
On the occasion, Chien extended his congratulations to Minh on his new role as head of the Party's organ, expecting that Nhan Dan will continue working with the VFF to fulfil the political missions successfully.
Minh affirmed that as a major media agency, Nhan Dan will increase coverage of the Party and State's policies and the efforts of frontline forces in fighting Covid-19 as well as fostering cooperation with the VFF in fulfilling the tasks assigned by the Party and State.
TAG: