Hanoi closes dine-in services, barbershops to curb Covid-19 spread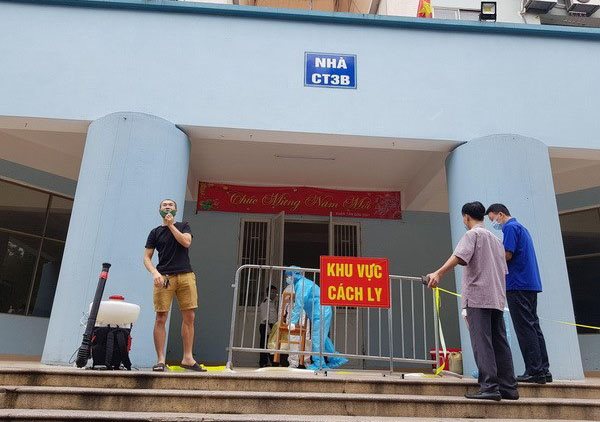 A condo building in Ha Dong District, Hanoi, where a Covid-19 patient lives, is locked down. The city has temporarily suspended all dine-in services, barbershops and hair salons – PHOTO: VIETNAMPLUS
HCMC – Hanoi chairman Chu Ngoc Anh signed a decision on May 24 to temporarily suspend all dine-in services, barbershops and hair salons in the city to curb the spread of the Covid-19 pandemic.
The suspension begins today, May 25, and lasts until further notice. Food stalls and restaurants are still allowed to offer takeaway services.
The Hanoi chairman said the Covid-19 situation in the city has become more complicated after it detected new cases in crowded areas such as apartment and office buildings, while the source of transmission has not been identified.
The local authorities have also banned parties, physical activities and gatherings at parks, flower gardens and other public places across the city.
Besides, people coming to Hanoi must do health declarations within 24 hours after they enter the city. Companies have been encouraged to let their employees work from home.
The Hanoi chairman said all districts must prioritize Covid-19 infection prevention and control. They must tighten all preventive measures and strictly sanction individuals and organizations that violate Covid-19 infection prevention and control regulations.
Hanoi is one of the country's biggest Covid-19 hotspots in the latest outbreak. As of this afternoon, the city reported 316 local infections in the current fourth Covid-19 wave, which started on April 27.
The city had to lock down a number of areas related to Covid-19 cases such as Xanh Market in Ha Dong District and some condo buildings.
TAG: