Bac Giang's Covid-19 tally crosses 1,000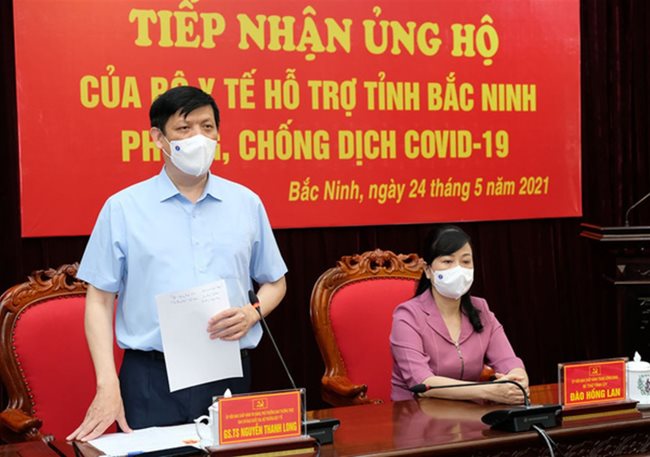 Minister of Health Nguyen Thanh Long calls on businesses, individuals, organizations, ministries and other localities to support the Covid-19 hotspots of Bac Giang and Bac Ninh at an event this morning. Vietnam confirmed 96 new Covid-19 cases this evening, including 44 cases in Bac Giang and 31 others in Bac Ninh - PHOTO: MINISTRY OF HEALTH
HCMC - Among 95 local Covid-19 infections confirmed by the Ministry of Health this evening, May 24, Bac Giang Province had 44 cases, sending the northern province's Covid-19 tally in the latest outbreak to 1,024.
Meanwhile, 31 cases were detected in Bac Ninh, 13 in Hanoi, six in Lang Son and one in HCMC.
The country also reported one imported case, who is a Chinese man coming to Vietnam on April 24.
The 96 new cases took today's tally to 187, including 184 domestic transmissions and three imported ones.
Vietnam has reported 5,404 cases since the Covid-19 pandemic broke out early last year. As many as 2,794 Covid-19 patients have fully recovered up to now, including 73 people discharged from the hospital today.
In the fourth Covid-19 wave since April 27, the country has seen 2,349 locally transmitted cases in 30 cities and provinces. Bac Giang and Bac Ninh have been the biggest Covid-19 hotspots with 1,024 and 505 cases, respectively.
Fourteen enterprises and organizations handed over necessities and money to the two provinces this morning to help them fight off Covid-19.
Addressing the handover ceremony, Minister of Health Nguyen Thanh Long said the Covid-19 situation in Bac Giang and Bac Ninh has been more complicated than other localities as they have high population density and are home to many industrial zones.
Bac Giang has had to shut down four industrial zones, lock down some areas and quarantine more than 60,000 people to curb the spread of Covid-19, while Bac Ninh is quarantining over 70,000 people.
The health minister called for more support from businesses, individuals, organizations, ministries and other localities for the two provinces, especially for people living in areas under lockdown.
TAG: