99.38% of voters in HCMC cast ballots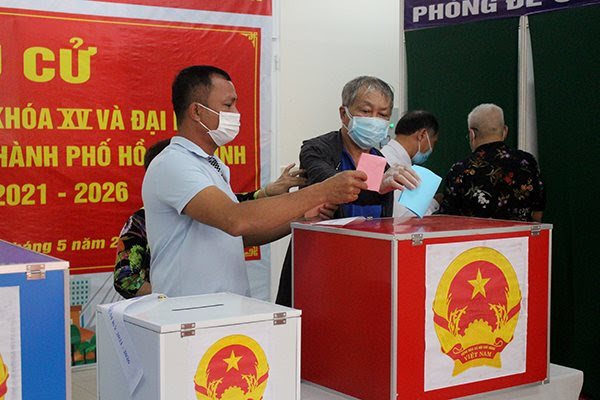 Two men cast their votes at a polling station in Tan Binh District's Ward 7 in HCMC. Over 5.42 million voters in HCMC went to the polls to elect deputies to the 15th National Assembly and all-level People's Councils for the 2021-2026 tenure – PHOTO: LE VU
HCMC – Over 5.42 million voters in HCMC went to the polls to elect deputies to the 15th National Assembly (NA) and all-level People's Councils for the 2021-2026 tenure, reaching 99.38% of the total number of voters in the city.
A report of the HCMC Election Committee also showed that 100% of voters at quarantine centers in HCMC cast their votes.
The municipal election committee said on May 23, the voters at the polling stations were asked to strictly comply with preventive measures such as wearing face masks, having their body temperatures checked, completing health declarations, using hand sanitizers and keeping a safe physical distance from each other.
Many polling stations in HCMC ended the national election day at 7.00 p.m. on the same day.
The results of the election for deputies to People's Councils will be announced before June 3 in line with Article 86 of the Law on Election, while the results of the election for NA deputies will be publicized prior to June 13.
TAG: